Finding the right high school for your student starts with asking questions. As a parent, it can be hard to know what questions are the right ones. How do you navigate the changing world of secondary education?
That's where our Admissions team comes in. We offer several opportunities throughout the year to help you understand what to look for in a high school and if the culture and academics at LuHi are the right fit for your student.
Don't Skip the Tour
Give us 45 minutes and we'll give you all the ins and outs you need to know about LuHi. All the tours we give are personal for your family, so bring your tough questions! We will take as much time as needed to answer all your questions.
Tours cover everything from the admissions process to what to expect in the classroom. Starting with a tour means you'll have all the resources you need to keep exploring LuHi and decide if you want to pursue us as an option for your student.
Schedule a tour here. We are flexible and willing to work around your busy schedule.
Open House, September 21st 6:30-8pm
We host two Open Houses each year - one in September and a second in January - for prospective students of any age. Each Open House starts with a message from our Executive Director Dan Gehrke and Principal David Ness about our culture, vision, future, and education philosophies.
Then, families are invited to explore the school to talk with teachers, coaches, club leaders and current parents and students. These conversations give you a full picture of what you can expect from four years at Lutheran. All teachers and coaches are present at this event.
Sign up for one of our Open Houses here. Everyone is welcome to attend or even come and go as needed. Whether your student is a current 8th grader or a 4th grader, the Open House is a good opportunity to get to know LuHi.
7th & 8th Grade Preview Day, October 20th 11:30-2pm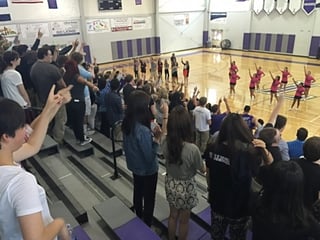 Just for current 7th and 8th grade students, Preview Day is catered to getting students excited and comfortable with the idea of high school. It is an activity filled half day that starts with a Chick-fil-a lunch followed by an Opening Praise led by our student worship class.
There is something for every student to enjoy on Preview Day including a science show, a music showcase, and an exciting presentation about what it takes to be a LuHi Lion. The day wraps up with a game-filled closing and a chance for students to win prizes. This fun event is a great way for prospective students to meet future classmates as well as chat with current Lions about the LuHi experience.
While students get a deeper look into LuHi, parents are invited to join a special Q&A session with our Executive Director, Dan Gehrke. This is your chance to pick his brain about the why's, how's, and future of LuHi. He is willing to cover any topic from tuition assistance to Greater Impact and everything in between.
RSVP's are requested. For more information - and to RSVP - click here.
Spotlight on Academies, November 20th 6:30-8pm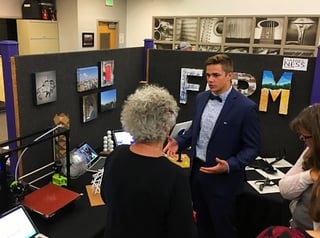 The Academies at Lutheran High School set our academic program apart from any other in Colorado. Our Academies give students a chance to pursue their unique passions above and beyond a typical classroom setting.
This year, we are offering 6 Academies: Art, Business, Lights, Mission and Ministries, Music, and STEM. Extra course work, collaboration in the community, and a capstone project are all pieces of how students can earn an Academy Endorsement on their transcript.
Learn more about the Academies here.
Join us for our Spotlight on Academies evening on November 7th to learn more about the ins and outs of our Academies program. Current Academy students will be there to show their individualized projects and all Academy Directors will be present to answer questions.
Shadow Days, starting September 6th
Last but not least, we encourage all current 8th grade students who are interested in Lutheran High to spend a day with us. The Admissions Department works hard to pair shadows up with current students who share similar interests to ensure shadows get the most accurate look at what a day in the life of a LuHi student is.
Shadow days start after Labor Day on September 6th this year. Eighth graders can shadow any day we are in session, but if they are interested in seeing Chapel, plan to come on Monday, Wednesday, or Friday. You can sign your student up for a shadow day today!
Please contact Joel Haywood or fill out this form to schedule your student's shadow day.
Looking for more? Try Classroom Observations
As a parent, you know that paying for a private school needs to be worth it. We firmly believe that a large part of Lutheran High School's value comes from its rockstar teaching staff and Christian curriculum.
You want your students to be surrounded by adults who not only are like-minded, but are of strong character and want to see your student succeed. All of our teachers work hard to partner with current families to ensure a positive learning environment.
Students spend a large part of their early teenage years at school. It's important that you trust the advice and influence they are getting from teachers and coaches. The best way to understand a teacher's style and skill level is to watch them in action. That's why we have an open-door policy for classroom observations.
Let our Admissions Team know what class you are interested in seeing and we will work out the details of a time of a time for you to come visit. You can sign up to observe a class here.
The right questions, the right school
Finding the right fit for your student can seem overwhelming with all the good high school options available in the Denver metro area. But when you are armed with the right questions to get the information you need about a school the right choice becomes clear.
Your student has unique wants and needs, so exploring various high schools and asking hard questions is the best way to ensure a school is a great fit for them.
Each aspect of the school - the academics, the culture, the school pride, the community - will contribute to how your student grows over the next four years. LuHi is built on the foundation of being biblically rooted, providing a highly relational environment, and staffing rockstar educators.
We look forward to meeting you and having you on campus with us this semester to really explore what we offer. Visit the Admissions Requirements page for more information about getting accepted to LuHi.