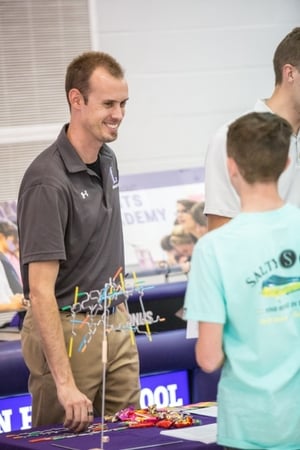 Inquiring students want to know: what makes their teachers tick? Here are ten interesting facts about LuHi's accomplished science teacher Derek Rinks.
#10 Ask Mr. Rinks what his favorite sack lunch to bring to school and he'll say leftovers, like chicken and dumplings from Costco. But he's also a self-described professional forager in the teacher workroom (teachers, label your food!)
#9 On the weekend you'll find Mr. Rinks enjoying the outdoors and hanging with his wife, five year old daughter and two year old son. He may also be reading about education and advanced sciences, since he is working towards his Masters in Education.
#8 Mr. Rinks enjoys an eclectic variety of music, like Josh Groban, Jack Johnson, Elton John, and worship music like Hillsong.
#7 In his own high school days, Mr. Rinks participated in math olympics, track, cross country, life-guarding, rock climbing, backpacking and snowboarding.
#6 Mr. Rinks helped implement and is one of the administrators of the learning management system Canvas that LuHi uses to communicate with parents and teachers. In fact, he was invited to speak at one of the sessions at their conference this summer in Long Beach, CA.
#5 If Mr. Rinks had all the financial resources he needed to solve a major world problem, what would it be? "Energy that is renewable and sustainable. We have made progress in many other areas, but minimal progress in a sustainable future for upcoming generations that goes beyond oil and coal."
#4 Mr. Rinks grew up in Orange County, California and attended the University of California in Irvine. He graduated with a Social Science in Education Degree, however his first teaching job was middle school earth science. Gradually he discovered he wanted to challenge himself further and now teaches Astrophysics and Honors Physics in addition to Earth Sciences at LuHi. Few high schools even have an astrophysics course, and in fact, Mr. Rinks has friends at SpaceX who have provided helpful resources for his classroom. Additionally, he wrote an Environmental Science course for Freshmen.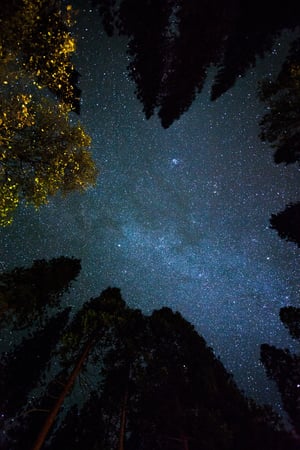 #3 This science teacher's classroom doesn't look like most science classrooms. With Mr. Rinks, faith is embedded fully into everything. "A lot of people think science and faith are incompatible, but the author of our faith is the designer of our universe," he says. At any given time students can open their Bibles while looking at the latest scientific research to understand both creation and the Creator on a deeper level. The key is to ask intelligent "why" questions, to seek out solid research-based evidence, and to learn to use discernment.
"When we look at the relativity of time and space and the world, what we perceive gets us into some really interesting discussions about God and how an eternal entity can still talk in terms of past, present and future. We look at some of the interesting events in the Bible like when the sun stood still (Joshua 10:13) and how a solar eclipse could make that possible astronomically, as compared to looking at Jesus turning water into wine (John 2:1-11) and understanding that God actually created matter, which is fundamentally impossible in the realm of our universe."
One of his most interesting discussions this year was about brand new evidence that shows a cosmic airburst explosion over the Middle East around 1900 BC. That is the exact time and location the Bible describes the destruction of Sodom and Gomorrah (Genesis 19).
#2 Mr. Rinks has had multiple near-death experiences: he outran a couple of avalanches, nearly drowned, fell off a two-story building, and was electrocuted by 220 volts. How has that affected him and his faith? "I've come to a strong understanding that I'm on planet Earth because God has a plan and a use for me, and when that runs out, my luck will, too. Every day is a gift and I don't have time to hold grudges. I don't have time to worry much about pleasing other people besides how I can serve them and how God can use me."
#1 Finally and importantly, Mr. Rinks stays connected to God through an ongoing prayer conversation on his own and with his family. Scientifically-minded, he is also very aware that there is much we don't know about the world; what we perceive is not what is actually real. "God gives us hints everywhere of how incredibly fine-tuned and intentional the world is, and I have an ongoing love and appreciation for what he has fashioned and the care he has put into it."
Mr. Rinks, thanks for sharing about yourself and challenging LuHi students to scientifically study the world with eyes of faith.
To see this talented teacher in action, please contact the school office to schedule a visit.