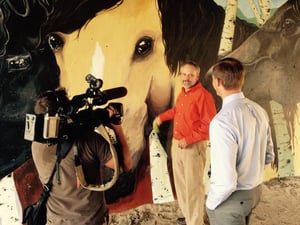 The arts are alive and well at Lutheran High School. We have experienced a groundbreaking year in many ways including the launch of the Art Academy and the relocation of the musical to the PACE Center. But it doesn't stop there:
11 students completed a 1400 square foot mural for the Town of Parker and the Parker Police Department for their Paint Parker Mural Program to curb graffiti. Dignitaries from Parker, including the Mayor and Chief of Police presented awards to the students before Chapel in September.
12 students participated in the inaugural year of the LuHi Art Academy. Students studied architecture, photography, special effects makeup, fashion design, mosaics, painting, illustration, and industrial design.
"The King and I" was performed for over 1,200 people in two days featuring a cast and crew of over 60 students
12 students participated in the Larimer Art's Centennial Chalk Art Festival. Students completed two 8X10 foot paintings in pastels on the ground. Lutheran High students won Best of Show in the high school division.
14 students participated in the Deep Space Gallery High School Student Sale. Two students, senior Lanky Laing and freshman Sabrina Moskoe, both sold work at the show.
The Jubilate Choir traveled to Utah, Nevada, and Arizona on their spring tour.
3 students had work accepted into the Scholastic Art Show. Most notably, senior Kent Harris was awarded a Gold Key for his portfolio, which is first place for a body of work. Kent also received a Gold Key and Honorable Mention for two of his individual pieces. Yoon Ji Choi and Jacob Dillon also won Honorable Mention awards for their artwork. Their work was chosen from over 6,000 entries.
The cast and crew of the spring production, "Helium" not only moved audiences to laughter and tears but also donated a portion of their ticket sales to American Alzheimer's Association.
Abi Budnack won First Place in the 4th Congressional District Art Competition and Show sponsored by Congressman Ken Buck. A junior and Art Academy participant, Abi's photograph was chosen from a field of about 130 pieces from students around Colorado. Sophomore Leah McChesney also won an Honorable Mention award in this show.
The three choirs at LuHi received 9 superior (I) ratings and three excellent (II) ratings at the CHSAA Choral Festival this year.
Sophomore Leah McChesney's photo and inspirational poster "Be Cheerful" was accepted into the 18th Annual Judeo-Christian International Juried Online Exhibition in Omaha, NE.
The LuHi Fashion Club, led by Senior Art Academy students Kent Harris and Alex Darnell, provided Lutheran High School's first entry into Art Directors Club of Denver's Paper Fashion Show. Eight students spent time designing possible designs for a paper dress, which would be made entirely of paper, and worn in a runway show. Several students worked on mockups and accessories in the planning portion. Kent and Alex worked with senior Lexi Knutson to finish and model the dress in time for the April 22nd show. The trio then spent a full day at the Westin Hotel downtown getting hair and makeup professionally done and being photographed for a book. Later that night they were one of 42 paper dress designs on the catwalk. It was exciting and exhausting to be part of the largest Paper Fashion Show in the U.S!
The Men's Choir received all superior ratings at festival marking the first time that a non-auditioned ensemble at Lutheran High received an overall (I) rating at a music festival.
We are celebrating the arts on Thursday, May 12th. The night kicks off at 5:30pm the Deep Space Gallery in Parker with the opening of the art academy's senior shows. Light refreshments will be served. The night continues one block east of the Deep Space Gallery at the PACE Center for the LuHi Arts Showcase starting at 7:00 PM. The Arts Showcase will feature the Concert Band, Men's and Women's Choir, the Jubilate Choir, and the select scenes from this year's musical, The King and I.
Both of these events are free and open to the public. We encourage you to make an evening of it in support of the arts at LuHi!
Schedule for May 12th
5:30 PM - 6:30 PM Senior Art Show Opening
Deep Space Gallery 11020 S Pikes Peak Dr, Parker, CO 80138
7:00 PM LuHi Arts Showcase
PACE Center 20000 Pikes Peak Ave Parker, CO 80134