"O come and sing unto the Lord, shout joyfully to the rock of our salvation"
"Then they took our Savior, and led Him to a tree; and there they broke His body, poured out His life, put Him to death to rise again!"
"No time to tarry here, for I'm on my journey home (heaven)"
"Praise the Lord in the highest. Praise His holy name. Let all things that haveth a breath just praise the Lord...He's worthy to be praised!"
"The Lord bless you and keep you and give you peace, Amen"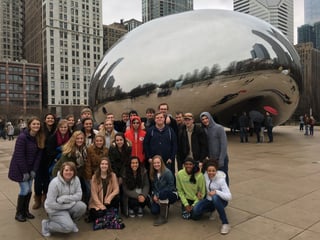 These are just some of the words that were shared through song as the Jubilate choir took their gifts and talents on tour throughout the midwestern United States. March 29th through April 2nd, the Jubilate Choir took their fifth annual tour throughout the country and once again, they made it their mission to share the love of Christ through song and through their interactions with individuals in another part of the country.
What is the purpose of tour?
Hebrews 4:12 states, "For the word of God is alive and active, sharper than any two edged sword". Music is a vehicle by which the word of God can work, by which it can penetrate into people's hearts where the Holy Spirit can work. Whenever the Lutheran High music department performs, that is their first and foremost mission.
Music provides a unique opportunity to share the Gospel to those that may never step foot into a Bible study, church, or a Christian environment. The Jubilate Choir takes that responsibility seriously as they perform both here in Colorado but also throughout the country. Mr. Loesel, the conductor of Jubilate shared, "We have no idea where and how the Holy Spirit is going to work in people's lives but we always want to be a tool that can be used to impact people's lives. Song is one way in which we can do that." That was the hope as the choir performed for individuals in Chicago, Milwaukee, and Omaha.
A little history of Jubilate tour
The first time Jubilate toured was in spring of 2013. Back then, the Jubilate Choir was a group of twelve students that met before school 2-3 times a week. The tour was to Nebraska and consisted of singing for a chapel service, an assembly, and a church service. The group took one rented 15 passenger van while Mr. Ness drove an SUV behind with all of the luggage. At the time, with the group meeting before school, they only had six songs that they could sing for audiences. It was a humble beginning to touring for Jubilate.
The 2014 tour saw the addition of a full concert as well as a second 15 passenger van for the trip! The group also had a home concert for the Parker community when they returned. As the tour experience continued to grow in the following years, the group went on its first tour flying when they traveled to Texas. It also expanded the concert makeup to its current form with three full concerts and several different church services and assemblies.
This year's tour was the first time that the trip needed a charter bus. With 31 people along, it certainly looked a lot different than that first trip with twelve students in a van.
What were some of the highlights of this year's trip?
This year's tour featured concerts for churches in Chicago, Milwaukee, and Omaha. It also had an assembly, two church services, and a chapel service at Lake Country Lutheran High School in Hartland, WI. Singing for a diverse group of audiences was a good challenge for the choir.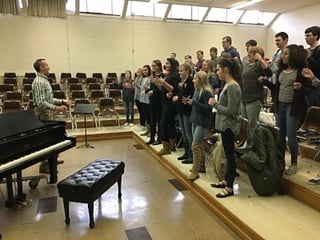 "Having to sing for a group of your peers at a high school can be tough but then turning around and appealing to a group of elementary students at a grade school assembly has a unique set of aspects to consider. Ultimately it makes the Jubilate students better musicians," says Chris Loesel.
One specific highlight for the group was participating in a masterclass with the choir conductor at Concordia Chicago. The students were able to learn new techniques for breathing, focus, projection, and interpretation of the music. Following the masterclass, Jubilate was able to sit in on the Concordia Chicago Kapelle Choir rehearsal. Hearing what a college choir sounds like and seeing how they rehearse on a daily basis was an eye opening experience for all involved.
Why spend all that time and money to sing for people in another part of the country?
While sharing the Gospel is the number one priority of a tour, that is not the only purpose for Jubilate. There is a different level of motivation when you know that you are performing for people outside of your parents, friends, and family. Family is always supportive and especially forgiving when things don't go as planned.
When you take a performance "on the road", you are performing for people that have no direct connection to the individuals in the group. The majority of people that attend a concert on tour are people that have a deep appreciation for music and they are there because they want to hear great music. The preparation for tour has an inherent weight knowing that these are the people you're performing for.
Another purpose of touring is to create lasting memories tied to the love of music. When you look at students that are involved in athletics, arts, or other activities, a lasting love of that activity is built over time through a series of impactful memories and events.
We want students to walk away from Lutheran High with a plethora of these types of memories and events in all areas of their high school experience. As the students in the Jubilate Choir got to experience performing in another part of the country, hopefully they were impacted not only musically but also in their faith walk as well.
How can I see the choir?
The Jubilate Choir will be performing their tour concert on Wednesday, April 19th at 7:00 PM at Grace Lutheran Church in Parker.
Grace is the church that shares a driveway with Lutheran High. The choir will be performing the songs performed on tour and sharing some highlights of the trip. It is a great opportunity to get a glimpse of what tour looks like as well as hearing the culmination of the work put in throughout the year by the students in the group.