"I've been so busy. I needed that." Pastor Aaron Kotila, Pastor of Trinity Lutheran, Nashville
Sharing the Gospel Through Music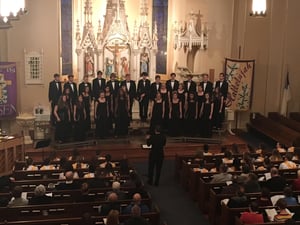 Worship music can bring our hearts and minds back into focus. "Busy" is very much part of everyday vocabulary for most people. Finding rest and taking time to remember who we are in Christ is invaluable. The Jubilate Choir, LuHi's auditioned, mixed ensemble, was able to provide an opportunity for students, pastors, and church bodies to re-center their hearts on Christ's love.
Jubilate students were excited to bless these communities through music. Senior Josh Hayhurst shared, "I love being able to connect with the members of the congregations that we visit. It is neat that we don't just sing for them but that we get to meet new people, share meals with them, and see how the body of Christ is active throughout the country."
Even the bus driver was blessed, "Many, many thanks, most of all for Lord's calming spirit you have instilled within your eager musicians. Christ's love radiates through every note!"
Choir Director Chris Loesel often shares that music has value because it is music. God has given us a gift that we get to enjoy daily, and we have the opportunity to cultivate that gift. The mission of the LuHi Music Department is to give glory to God through performances and rehearsals.
Work and Play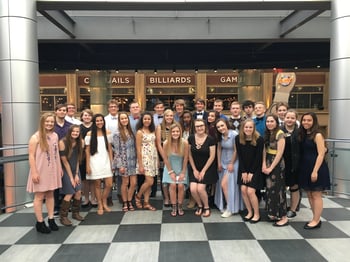 This year, Jubilate tour was able to travel to St Louis, MO; Nashville, TN; Louisville, KY; and some other smaller towns in between. The tour consisted of three full concerts, two assemblies and a church service throughout the five day trip.
Mr Ness shares some stats from tour, "By my count, over 1000 people heard the message. Jubilate sang at an assembly at St. Charles, MO (350), an evening concert in rural Nashville, IL (60), a evening concert in Nashville, TN (60), church in Nashville on Sunday morning, an evening concert in St. Charles, MO (185), and an assembly at Lutheran High School in St. Charles (350)."
It wasn't all performances though. During the trip, the students got the opportunity to take in some of the local culture. A universal highlight for the high schoolers was seeing the LuHi principal, Mr. Ness, attempting to line dance at the Wildhorse Saloon in downtown Nashville. "I think I just went two steps to my left and then two steps back to my right" shared Ness. Nonetheless, everyone loved it.
Another highlight was getting to take in a Broadway performance of Les Miserables in Louisville, KY. "Getting to hear the voices of those actors and actresses was absolutely unbelievable! They were SO good!" shared sophomore Alyssa McCampbel. Everyone left that night in utter amazement of the talent that was present of that stage.
Sharing the Gospel Through Relationships
Apart from performing, students were able to build relationships with the people they encountered, giving them another way for them to share the gospel.
Mr Ness shares, "More than ever, the value of a tour like this is clear as our students are encouraged, (we hope) churches are encouraged, we connect with the Body of Christ and see the church in action.
We get to share of God's faithfulness at Lutheran High School in Parker, students engage with members of the congregation over a meal, our students hear devotions each concert and messages throughout the tour, our students learn responsibility, etc."
He remembers one performance in particular, "In Tennessee, the pastor invited us up to join the congregation in praying over Yuping, a member of their church with acute Leukemia. They are not sure if they will see her in church again. I'm so glad our students saw the church as a family as we prayed together for this woman who has impacted many in their church."
This moment was as impactful for the congregation as it was for our students. Pastor Keith Enko from Emmanuel Lutheran Church in Hermitage, TN shared, "Several people commented how impressed, not only by the kids voices (which were incredible), but by how personable they were. They said how genuine they were, and how they appeared to enjoy singing so much. I would agree with them whole heartedly. I must tell you though, what people were most impressed with was when they all came up to pray over Yuping with the rest of the us. Some even mentioned that they were more moved by that than they were by their singing performance."
These are special experiences are unique to Christians. In fact, these moments live at the heart of Christian fellowship. Sharing each others burdens and lifting one another up in prayer is an awesome gift. Because of this year's Jubilate tour, students were given a chance to live out being "brothers and sisters in Christ." Even though our students were visitors at this church outside of Nashville, TN, they witnessed how we are all part of one family, one body.
Quality of Performances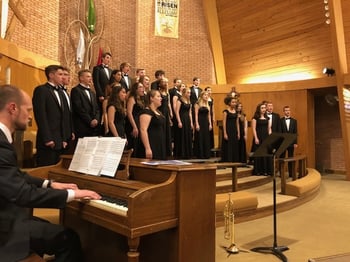 Jubilate works hard all year to prepare for Tour - the culmination of their performance season. The student's dedication to excellence is clear in their performances. The goal of their hard work is to bring glory to God!
Pastor Scott Schmieding from Immanuel Lutheran Church in St Charles, MO said, "I have just one word to say. Wow!! I kept having to remind myself this was a high school choir!"
Pam Loesel, who is the 5th and 6th Grade Choir Director at Immanuel Lutheran and is also Mr. Loesel's mother, felt similarly. "We have been hearing one rave review after another from the parents of the 5th and 6th graders. They and their kids absolutely loved the concert! I had to keep reminding myself that the choir was a high school choir and not a college choir!"
Choir tour is a beautiful wrap up to the performance year. The tour officially ends each year with a final performance here in Parker. Ending the tour in front of family and friends is always neat getting to share what was shared around the country.