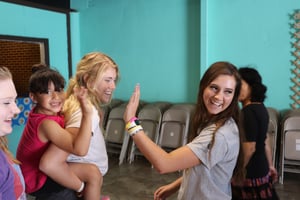 Earlier this summer, a group of 10 students, 4 parents and staff spent a week in El Nino, MX - about 15 miles east of Tijuana - serving the Comunidad Cristiano El Nino (CCEN) church. This is LuHi's third year partnering with Christ for the City mission organization to serve the community. CCEN, led by Pastor Daniel Nunez, works with a ministry called Kingdom Builders which is part of a larger ministry, Ministerios Transformacion (TM).
"Once we arrived in El Nino, it was very easy to see why Coach Kohlwey has been back so many times. The people who were working with us and taking care of us were beautiful people. They were so genuine about their love for Christ. I was so humbled how the people of El Nino don't have anything, yet they are so happy and love God so much for all He has done for them. I was amazed by their faith. They knew God would provide what they needed in one way or another," explains LuHi mom, Casey Fisher.
The group's goal was to be Jesus to the people in the city and help however they are needed. Often times this happens through helping with the lunch program, helping with building projects, and visiting hospices and orphanages. Mrs Luna shares some of her thoughts from the trip, "The mission trip to El Niño was definitely an eye opener. It was a great experience and a very safe place. I was amazed in the ways God was working in El Niño and through all the people we met. It's a trip I would want to be able to experience again."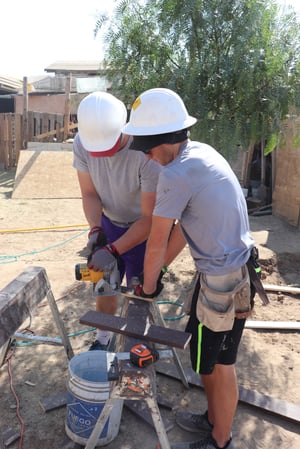 LuHi mom, Heather Pankratz, provided a general list of activities:
Morning and evening devotional meetings every day, which were wonderful, and served also to help us communicate feelings, activities and more.
A visit to an orphanage sponsored by CCEN and TM.
A visit to a care home for disabled and aged men, also sponsored by CCEN and TM
Helping paint the entire sanctuary, conference room, and lower level hallways at CCEN
Eating the most delicious and lovingly prepared local meals from the women of CCEN.
Joining a Christian group from LA to build and finish a small home for a family and two children from CCEN in a nearby neighborhood, and working alongside the mother and her beautiful young kids
Side trips to Tecate, Mexico for an amazing local taco meal and visit to an insanely overabundant local bakery
Thursday evening bi-lingual worship service at CCEN with a Praise Team from Monument, CO
Sunday worship service at Comunidad Cristiano Rojo Gomez to help celebrate their 12th anniversary, and enjoy their Praise music and message
Side trip to Rosarita, Mexico to visit the town and splash in the Pacific Ocean
Side trip to Tijuana to help celebrate the grand opening of another TM ministry church and meet their congregation
Visiting the personal home of Pastor Tury and his wife, Nelely, and boys Max and Leo.
Quick walking trips to the local supermarket for some supplies but also to just see how life is in typical El Nino, Mexico.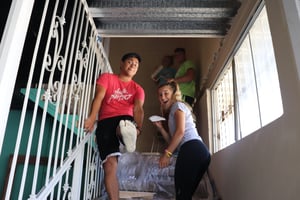 Mrs Fischer also shared a recap, "We went to a men's home for men who have been injured or have disabilities. These men brought me to tears. They are living in the worst of circumstances. The way they sang for us and praised God, brought me to tears. They gave the kids great advice and showed them what it really means to have faith and live by faith.
We were able to help another mission team from California build a house for a single mother of two. It was such an amazing moment to see this woman get the key to her house where her children would be safe. Her story was heartbreaking how she ended up living in El Nino. It was such an amazing feeling to be a small part in making someone's life better.
Coach said he hoped we would see God in people during this trip; that God would be real to us. I had that experience on Sunday at the church service we attended. We attended a service at a church where they were celebrating their twelfth anniversary.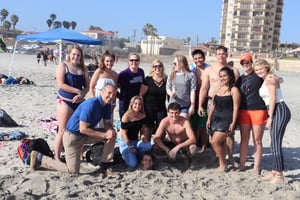 Pastor Abraham got up on the stage and we all assumed he was going to talk for a little bit. He started singing instead and I have never seen someone with so much love and joy. His face said it all and I could see God in him. I couldn't stop smiling. The entire service was in Spanish but it didn't matter to me. I could see these amazing people all around me enthralled in every word the Pastor was saying. I was taking in God through them."
Besides serving the community, the group also went to Tecate for tacos and spent some time at a beach in Rosarita, MX.
The theme from this year's trip was humility. "I came away from this trip very humbled, thankful for everything God has ever done for me, and most importantly a fire to live my very best me through God. I can't wait to go back next year and see these beautiful souls again," expounds Mrs Fischer.
Mrs Pankratz describes her feelings from the trip, "The emotions my daughter and I experienced on this trip; from humility, self-sacrifice, and incredible gratitude, to an overwhelming sense of unfairness and more were a lot to process… the twice daily devotion time helped a lot with this. We were so incredibly blessed to witness the amazing Faith, tenacity, graciousness and pride in these communities and people. They seem to have so little in many cases, and have such Faith and a willingness to share what they do have."
The LuHi community is so thankful the work of this year's Mexico Mission Trip team did in Jesus' name! Next year, the team plans to build a house for $7,000 in 3 days. Mr Kohlwey is also planning to add a trip to Alaska through Alaska Mission for Christ.