It's hard to believe, but this year's Fall Sports Season is quickly approaching playoff time. Let's recap how our teams have done so far and what we have to look forward to as they begin to wrap up.
Football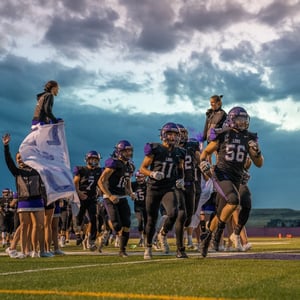 Coach Robbins LuHi Lions Football Team boasts a 3 and 1 record so far this season. He shares that they've had a lot of great moments this season and are focused on producing even more, "I believe our game against 3rd ranked Green Mountain was a great moment that proved to our men that our goals are attainable. We need to remain focused each week on the things that are in our control, and play it one down at a time, and not look ahead."
Family is the focus of this year's team. "We have focused all of our off season and pre season on coming together as a team, and learning how to give our best for the good of the team. Learning to live and play for something bigger than ourselves is key, and when we are willing to focus on the goals of the team not our personal desires good things happen."
Volleyball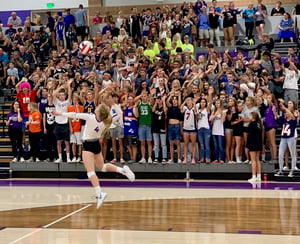 Coach Kidston has another impressively deep team this year. So far this season, they are undefeated at 6-0. Similar to football, one of the team's main focuses this year is a team first mentality. She's committed to continuing to grow as a team, build on their strengths, and try different things to help the Lady Lions succeed.
"One of the best moments of the season so far was during our match against Valley. We were down 13-9 in the fifth set at Valley and came back to win 16-14." That's the kind of battle every coach loves to see their team overcome.
Golf
Unlike other fall sports, boys golf begins tournaments before the first day of school and wraps up the season in early October. For the first time since 2013, LuHi golfers qualified as a team for State. Westin, Jackson, and Owen will head to Eisenhower Golf Club (at the Air Force Academy) next Monday, October 7th for the State Tournament.
Coach Volz shares that the team has yet to play their best golf! "We're saving the best for last!" The best part of the season is, "the team bonding/camaraderie that occurs never gets old, so great to see the love shared between these young men!"
Spirit
LuHi Spirit Team Head Coach Tabitha Kniseley shares that the main characteristic she's seen from her girls this season is their drive. "The Spirit team has had the motivation and effort to become the best they can be in practices and it definitely shows at the football games. I'm looking forward to pushing the team even more to the best of their ability as well as forming a unity and respect for each individual on the team."
The team shared a special moment after Coach Kniseley's recent engagement, "The best memory was when the team decided to surprise me at one of our practices. They decorated the field, did a dance and stunt and congratulated me on my engagement by throwing red heart confetti. It was sweet and so thoughtful."
Boys Soccer
With a 6-2 record, the boys soccer team has their eyes on playoffs. Coach Buchholz shares, "So far the biggest area of improvement has been our goal differential. We have scored 30 goals and have given up only 7. The team has had to overcome some obstacles this year and have responded well up to this point. We hope to keep improving as we get into the tough part of our schedule and league play is in full swing."
The team just returned from a trip to Kansas City where they played two other Lutheran schools - KC Lutheran and St Paul Lutheran. Coach Buchholz shares that "It was good competition and was fun to see our players experience other Lutheran High schools from different parts of the country."
Cross County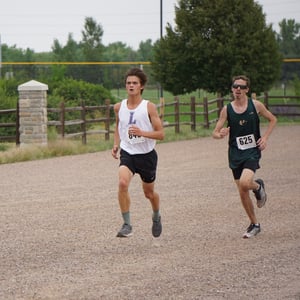 LuHi's Cross Country team can be summed up in one word: growth. This year, the team has 38 student athletes. The boys team took first at the D'Evelyn Dash and the Ponderosa Stampede. The girls team has finished third at multiple meets including the Liberty Bell meet, the D'Evelyn Dash and the Ponderosa Stampede. The team has their Metro League Championships this Thursday.
We hope to see you on campus or around town to cheer on your LuHi Lions! Your support means the world to our students!