written by Park Vogel, Collegiate Recruiting Coordinator and Head Baseball Coach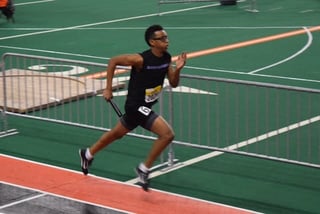 I am the Collegiate Recruiting Coordinator as well as the Head Baseball Coach at Lutheran High School. Last summer, I attended the American Baseball Coaches Association (ABCA) Convention and heard many important pieces of wisdom and advice. Here are a few key takeaways I think every student athlete with hopes to play at the next level should consider:
Be smart and avoid overuse injuries. Coaches at the Convention agreed they all see too many kids with overuse injuries. Personally, I see it all the time in baseball with student athletes needing Tommy John surgery before they even reach high school age. Common overuse injuries include tennis elbow, shin splints, swimmer shoulder, and other various forms of tendinitis.
My Recommendation: There is no need to play competitive sports year-round through high school. Participating year round in the same sport can lead to burnout as well as overuse injuries. Taking the time to give your body the rest it needs is critical. This doesn't mean students can't stay active and be in shape all year; strength and conditioning coaches should provide student athletes with proper in and off season workouts. If you're interested in LuHi's strength and conditioning coach's approach, check out this article.


Be a multi-sport athlete. College coaches commonly address that traveling team or high school coaches should encourage players to participate in other sports during the off season. Having the versatility to play multiple sports says alot about an athlete. At the Convention, a coach mentioned he occasionally travels to high schools to watch prospects compete in their second sport. In these situations, he looks for mental toughness, how the player relates to teammates, awareness, and athleticism. Playing a variety of sports can also enhance agility, strength, balance, hand-eye coordination, etc in an athlete.
My Recommendation: I believe that a student athlete should pick 2 sports that do not necessarily engage the same sport concepts, yet complement each other. A football player may want to engage in a sport like track that does not have the daily physical toll of contact to the body. Track will help with specific balance, speed and explosiveness drills that engage other muscles, different from those utilized in football. A baseball player may want to swim or play basketball. This will allow the arm to rest and regain strength. A tennis player may want to combine basketball so they do not develop tennis elbow.


Learn to self-advocate. Several coaches told stories of parents who would jump in and try to "fix" a tough situation for their student-athlete, which often lead to a more troublesome situation. As a parent of a young athlete, I know how tempting this is. It's easy to think, "If I don't stand up for my kid, who will?" By the time a student-athlete enters high school, parent's mindsets should shift into training their student to advocate for themselves to their coaches.
My Recommendation: If your student-athlete calls home and is upset about something that happened with their coach, parents should be a sounding board and support their child. Try to avoid taking a side. Instead, listen, support, and empower the student-athlete to work through the situation on their own. Coaches will appreciate hearing from the student and working directly with them to resolve the issue. This enables both parties to do their jobs without distractions.


Remember every athlete is unique. Traveling coaches, high school coaches, and parents should remember every student-athlete is unique so when it comes to finding the right college, the student needs to come first. Making sure a college meets the needs and wants of a student should take precedence over picking a school with the best brand name. A college should fit the needs and wants of a student. and they need to find the college that will best suit their wants and needs.
My Recommendation: Help your student pick a school where they will feel at home even if they were to suffer a career-ending injury.


Data matters. When I was chatting with a Division I coach friend at the Convention, he joked about a travel coach who told him that a player was "fast as heck." But what does that really mean?! College coaches rely on verified measurable data and they want to see video to back it up. Often times, coaches do not have time or budget to travel to as many games or practices as they would like, so skills videos are essential.
My Recommendation: I would have a parent or coach videotape actual game video of the student/athlete. A coach can upload to HUDL, the universal video system used by high schools nationwide and share the video in minutes to multiple college coaches. I would not make a highlight video to send to college coaches. I coached at the D1 level and I never watched a glossy, music laden highlight video. I watched full games so I could see if a young man took plays off, did their motor run start to finish, and did they get any unsportsmanlike penalties. A college coach will want to see all aspects of a student/athlete's competition, not just the highlights. A highlight is just that, the special plays that highlight a player. A college coach wants the totality or body of work of an athlete in competition.


Develop mental toughness and a higher sports IQ. All the coaches at the Convention echoed the fact that too many high school and even college players today lack the mental toughness needed to be a great athlete. Coaches also would like to see higher sport specific IQs. A sport IQ is simply being knowledgeable in the verbiage and exposed to the strategy of a sport. The individual who goes out and plays a sport over and over or is exposed to the nuances of a sport through participation has sport I.Q. These are traits that can be developed at an early age.
My Recommendation: I would recommend less video game exposure and more sport exposure at an early age. If a student/athlete is going to watch television, have that individual watch athletic events. I would encourage sport video games like Madden or NCAA Basketball 2017 for those athletes who just can't stay off of video games. Yes, these are video games, but they also allow the gamer to pick up on the strategy and communication used in that sport. Shoot for an opportunity to pair athletic education at the same time as entertainment.