Alumni Spotlight: Chase Campbell finishing his degree at Mines
Chase Campbell, class of 2019, is graduating from Colorado School of Mines this May with his materials engineering degree and a minor in computer science.
Chase Campell, class of 2019, has been pursuing his degree in mechanical engineering at the Colorado School of Mines. This summer, he interned at Sierra Space and has his eyes set on entering the aerospace industry after he graduates this May. Chase generously gave us some of his time to catch up on his life after leaving LuHi:
What have you been up to since your LuHi graduation?
Since graduation, I have been attending the Colorado School of Mines, studying Mechanical Engineering with a Minor in Computer Science. I have gotten involved with YoungLife and now am a leader for a local middle school here in Golden.
I have also gotten involved on the Mines campus through our Peer Mentor program (essentially a First Year Success Class required for freshmen and taught by upperclassmen). This position has given me an awesome platform to display my faith and bring Christ into a rather secular curriculum. Among other things, I still love skiing and enjoying Colorado outdoors, especially now that I'm closer to the mountains!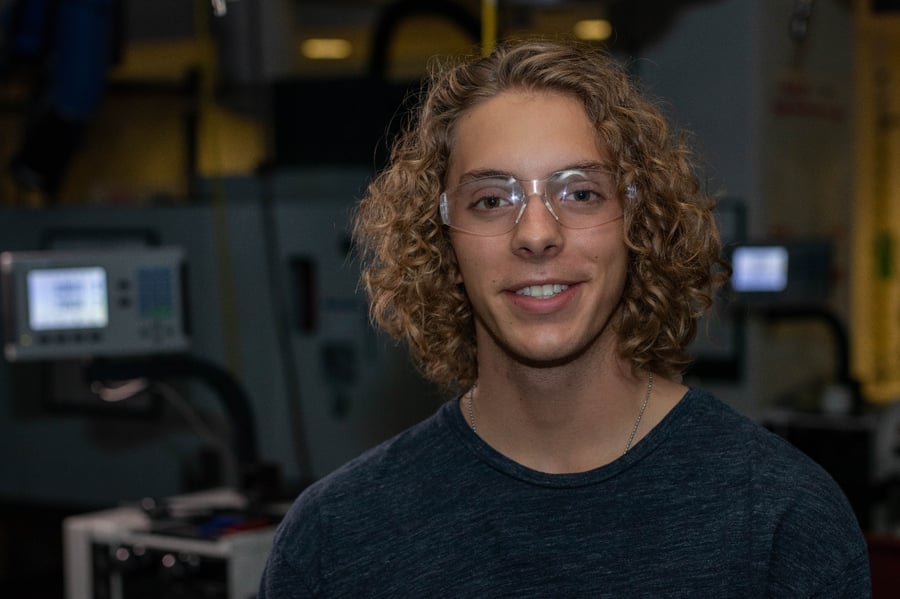 Can you share a little about your Sierra Space internship?
Over this past summer, I have been working at Sierra Space as a Mechanical Engineering Intern on their Structures team, supporting the development and design of the Orbital Reef. I am still working there part-time during my senior year at Mines.
This has been an amazing experience where I got to apply a lot of what I am studying in a real industry setting and meet many fantastic mentors. I got the internship from the Fall Career Fair that Mines puts on. We bring in over 200 employers, and I had the opportunity to speak with a representative from Sierra Space at the event. After the Career Fair, I was able to get an interview by being persistent with a University Relations Recruiter that I was in contact with until a position opened up.
I worked on many projects throughout the summer: designing and procuring a flight mechanism, structural and mechanical designs, and some flight risk analysis. Most of my summer was spent designing things in CAD, but I also got some hands-on experience with hardware.
Do you have any plans for after graduation?
I am graduating in Spring 2023 and planning on entering the aerospace industry. I am still working on where that will be and with what company, but I am excited about all the opportunities that are currently present in this industry!
What is something unexpected you learned or experienced in college?
Something unexpected I experienced in college is how busy you get and how quickly you have to learn extremely strong time management skills. While everything I'm busy with are things that I enjoy and am excited about doing, it is imperative to learn how to manage everything well.
How has your faith grown or been challenged in college?
Leaving LuHi for a STEM university, I was pretty nervous about how I would find community and continue to grow in my faith. While it was definitely a challenge because it was no longer required to go to chapel or read my Bible, I was surprised by the Christian presence I found on the Mines campus! I have immersed myself in a few Christian communities that have strengthened my faith and made me a better follower of Christ over the past few years. Specifically the Navigators and my local Golden church!
Do you have any LuHi teachers you'd like to give a shout-out to?
I definitely want to give a huge shoutout to Mr. Rinks for further inspiring my love for space and developing my problem-solving skills through his student-driven Astrophysics class. Mr. Blomenberg for encouraging me to pursue difficult situations and showing me how to thrive in such an environment. Miss Quinlan, for being an amazing friend and supporter throughout the years as I've gone on from LuHi to Mines and now beyond!
What advice would you give to current high school students?
I think the biggest piece of advice I wish I had when I graduated was to really dive into finding community wherever you end up after leaving LuHi. Whether that is college or work, or anything else, it is so important to have a solid community surrounding you that supports and encourages you. Finding this community took me a while, and I know if I had it sooner, it would have allowed me to be more successful in my first couple of years after graduation.
Thanks for your time, Chase! We wish you the best and will keep you in our prayers as you graduate and move into the workforce.