Alumni Spotlight: Daniel Saline combining graphic design and athletics
Daniel Saline, 2015 LuHi Grad, studied graphic design at Boise State University and combines design with BSU athletics.
What have you been up to since you graduated from Lutheran High?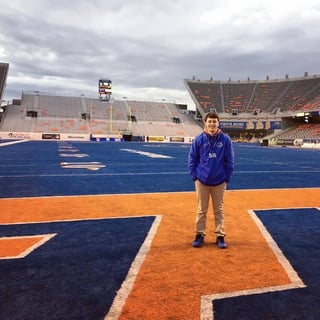 I'm going into my third year at Boise State University in the graphic design program and have recently been accepted to the upper division program.
Each April, between 30 and 40 sophomore graphic design students put together a portfolio to present to the faculty members, and 16 students are admitted to upper division for their junior and senior years. It's a program that obviously requires a lot of dedication, knowing my spot isn't guaranteed, and it certainly pushes me to improve my work.
I've been blessed to have had three internships during my time here, with each giving a unique experience and helping to narrow down a potential career path.The first was a graphic design position with a print shop, where I was responsible for designing shirts for high school sports teams to give them high quality, custom apparel.
The second was a marketing internship with the athletic department here at Boise State. This involved running on-field promotions that happen during football and basketball games as well as other sports. Working on the blue turf during a game has been one of the most incredible opportunities that I'll certainly treasure. It also provided a connection and recommendation for my current internship, working as a graphic designer for the football team specifically.
I'm currently in a position that I never would have dreamed of being in-one that I consider my dream job-and I owe much of that to the experiences I've had at Lutheran High.
What did you value most about your time as a student at Lutheran High?
I really valued chapel throughout the week and seeing so many others worshiping together. I know it's a blessing that often gets overlooked, especially by students like me who attended a Christian school from kindergarten through high school, but being in the same room as 350 other believers was one of the best things about Lutheran High School.
How did Lutheran High prepare you for college?
Lutheran did an excellent job of preparing me for college by giving me all the skills I needed to be successful. The teachers helped to mold me into a truly well-rounded student, which is one of the most valuable skills to have in college.
In my senior year, I joined Lights Academy when it was in its first year and learned a lot about how to tackle a large, semester long project, something I've encountered at Boise State as well. I also learned how to interview for a job and conduct research for a topic, which are huge skills to be able to learn before college.
With the gift of hindsight, how has your faith guided you through life?
My faith has kept me grounded when times have gotten stressful, whether that's in college or at any point in my life. I've been assured that though I struggle, I have a Savior who loves me and will carry me through. At a secular university, this can happen frequently, as I'm tested in my faith daily. My faith was certainly strengthened at Lutheran as I've often been able to recall what I've learned from Theology classes, or even just conversations with teachers, coaches, and friends.
What is the most important lesson you learned at Lutheran High?
I'd say one of the most important things I learned at LuHi was that my faith isn't something I have in a Theology class, but it shapes who I am and is my life. It's also not a switch that I can turn on or off depending on the situation I'm in, and since my time at Lutheran I've learned to embrace my faith and not be ashamed of showing it to others. I've since learned how to apply my faith to other classes, whether that's through ethics, decision making, or another area entirely.
Is there a particular Lutheran High teacher, coach or staff member that has significantly impacted or influenced your life?
While I could certainly name several, I think the first names that come to mind are Mr. Black, Mrs. Oates and Mrs. Davis. Each of them knew me personally, impacted my faith and taught me things in and out of the classroom that I've taken with me to college.
Is there any advice you would like to offer to the current and future students of LuHi?
Try new things. It sounds like simple advice, but really, stretching yourself outside of your comfort zone is one of the best things you can do at this stage in life. Whether that's by playing a sport or three, being involved in a play, robotics club, or something else, it's a great opportunity to make friends and helps you figure out what you're interested in.
Do you have any favorite memories or stories from your time at Lutheran High that you would like to share?
I think one of the best weeks of my life was witnessing Z-Man, D-Man and the Loeser Show (Mr. Zoeller, Mr. Duitsman, and Loesel) roll in on a piano and serenade everyone with their sweet voices around Valentine's Day.