We extend our heartfelt condolences to the family of Kate Rafferty Petrocco who died July 14, 2019 at age of 36.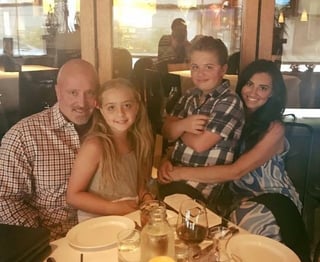 Kate Rafferty Petrocco graduated from Denver Lutheran High in 2000. After high school she attended Metro State where she received a degree in Hospitality, Meeting and Travel Administration with a specialization in meeting/event planning. While in school she received a scholarship that translated into an internship and then a full time position at the Denver Convention and Visitor's Bureau. After obtaining a graduate degree from CSU Fort Collins she continued to work in the events field.
In 2005, Kate was introduced to David Petrocco (the brother of her best friend from college) and they were married shortly thereafter. Today, they have been married almost 11 years and have a 26 year old son, 21 year old daughter and 8 year old twins.
Kate's husband, David, is a 4th generation grower at Petrocco Farms, a family owned and operated produce business covering around 2,500 acres in Brighton, Colorado. The Petrocco family has been growing fresh vegetables since 1916 and their current products include leaf lettuce, cabbage, leafy greens, green beans and dry onions.
Kate went to work at Petrocco Farms in the fall of 2006, intending to be there a very short time. She is now in her 11th season at the farm where she directs the Food Safety Program, manages all of the Logistics and Freight and works in Sales with partners like King Soopers, Sprouts and Walmart.
When asked about the challenges and rewards they face in the farming industry Kate stated that after being involved with farming for over a decade she has learned that the biggest challenge is the weather, "seeing an entire field just destroyed is heartbreaking."
On the other hand, the labor issue is both a challenge and a reward, "We use a guest worker program because most American workers cannot work in the field for more than a day or two. Getting to know our employees brings me joy. Many of them have been with the farm for generations and they are the hardest-working, kindest people."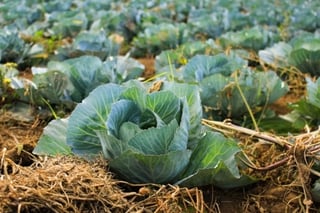 Kate also loves knowing that they are providing fresh, healthy vegetables not only for their own family, but to people across the nation.
Kate also shared the most significant changes their farm has experienced in past years:
"Technology has changed farming in so many ways. There are tractors that have air conditioning and GPS, we have a computerized database that tells us exactly when and where each box was harvested, when it was cooled, where it shipped, etc. The intersection of "old school" farming and the record keeping and documentation required today has been an interesting transition."
Kate's story is an example of how God's plans for us can be much different - and much bigger - than we can imagine. Below, Kate shares a little about how her time at Denver Lutheran was impactful and a blessing in her life.
What did you value most about your time as a student at Lutheran High?
I loved high school! I received an excellent education and made some of my closest friends. I have friends from LuHi who are now family - my kids literally call them "Aunt" and "Uncle". I still get to connect socially with so many staff and fellow classmates and it always feels like home. The sense of community at Lutheran High School is unparalleled.
How did Lutheran High prepare you for college and your future career?
Lutheran prepared me academically, socially, morally and spiritually to take on the real world. In some ways, Lutheran High School was a bubble because we were all so close and the moral standards were so high, but we got to tip our toe out just enough that we were ready to succeed upon leaving. Lutheran gave us both roots and wings.
With the gift of hindsight, how has your faith guided you through life?
Faith factors so steadily across family, work and day-to-day life. As you go through life, there will be trials and tribulations. A strong faith lets your rest in the knowledge that you are loved and cared for in the purest sense by God who was willing to sacrifice his own son for all of us. When times are hard, knowing that God has a plan for you is comforting. Faith is a safe place to land, even in the most difficult storms.
Is there a particular Lutheran High teacher, coach or staff member that has significantly impacted or influenced your life?
There are too many to list! Mr. Larrabee will always have a special place in my heart for his guidance and steady presence. Mrs. Hollenbeck was the greatest English teacher I have ever had and she was one of the first women I knew who loved reading and sports as I do. She pushed me, challenged me and always supported me. Mr. Reinke helped some of my friends and me out of a couple of jams, but I would never disclose the details. I don't want to give any ideas to current or future students!
Mr. Gehrke was the funniest teacher and helped me a lot with my worst subject, math. Mrs. Cattau was always so sweet and kind in the office. Our soccer coach at the time, Greg Sampier, was a driving force in my pursuing soccer beyond high school. Mr. Brandhorst (Mr. B) always made class interesting with his sweet, quirky insights.
Doc Schaeffer was an absolute classic. Anyone who was at Lutheran when Doc was there will always remember him! My children attend Zion Lutheran in Brighton and I so look forward to field day at LuHi to connect with these folks and more!
Is there any advice you would like to offer to the current and future students of Lutheran High?
Do all of it! Everything! Sports, choir, student council, volunteer missions, drama, clubs. You will make some of the best friends of your life and cherish those memories for the rest of your life. I remember the day we graduated and spending time with all our friends that night like it was yesterday.
I don't think we even slept; we stayed up all night laughing at our memories and crying that we were leaving one another. Lutheran High School gave me a sense of self, an excellent Christ-based education and the opportunity to know some of the greatest people in the world. I know kids hear this all the time but enjoy every minute! It will be gone before you know it, I promise.