Alumni Spotlight: Sam Schilling pursuing a STEM field degree
Sam Schilling, 2013 Lutheran High School Grad, is pursuing a Computer Science and Applied Mathematics STEM field degree at Colorado School of Mines.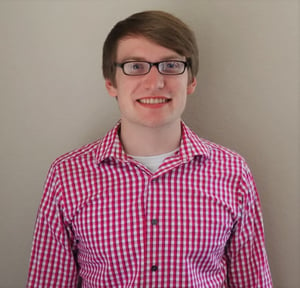 Sam Schilling, 2013 LuHi Alum, is studying Computer Science and Applied Mathematics at Colorado School of Mines in Golden.
From early on in his high school career at Lutheran High, he had his eyes set on Mines: "It was the only college I applied to. I was pretty set on it."
There were many things that drew him to the school such as its strong academic record and public image. He jokingly remembers his dad telling him that Mines was where smart people who like math go and that he could be successful there.
When I asked why he chose computer science as a major, he told me he started exploring programming when he was 11 or 12 years old. He would make games for fun. When he got to LuHi, he took a few computer programming classes and he really liked them. At Mines, he knew that computer science was going to be one of his focuses; and after some additional classes, he was affirmed in choosing it as his major.
Sam wrapped up his first internship in May. He interned at the National Renewable Energy Laboratory in Golden where he was the only programmer on staff. During this year long internship, he helped continue development on an app that is used to run fuel simulations for long haul trucks.
"Long haul trucks waste a lot of fuel during idling time like when the drivers are taking breaks or sleeping. This app allows you to import truck models, specify all sorts of physical properties such as thermal conductivity, and then uses weather data from a city of choice to estimate fuel consumption," he explains.
His second internship will start this summer. During this internship, Sam will be working with Woodridge Software where he will help develop mobile and web apps for various clients.
Sam confidently tells me that LuHi helped prepare him for college. "The math and sciences were really big in helping me prepare. We covered most of the stuff I needed to know going into the program. There weren't many gaps," he says.
"But on the other side of things, thanks to the English Department at Lutheran, I feel like my writing skills are more honed in than some of my classmates. I know Mines isn't know as a liberal arts college, and it seems like a lot of people struggle with writing papers or essays. Teachers like Mrs. Oates helped me out a lot in this area to where this is not much of a problem for me. I think Lutheran did a good job of preparing me on both sides of the coin."
I asked Sam if he had any advice for students who are interested in a STEM career. He said, "If you're interested in STEM, I would recommend taking calculus. You don't have to like math to enjoy or do well in a STEM field, but calculus serves as a class where if you can grasp and apply those concepts - even if you don't like it - that's an indicator you have the thinking skills you need in a field like that."
He went on to say that LuHi students should talk to teachers like Mr. Blomenberg or Mr. Vanderhyde. "The people who teach the classes that pertain to that field can help you determine if you're a good fit for a program or not," Sam says.
When we started talking about Sam's favorite part of college, he said that he's really been able to find his independence. "I think my favorite part is how it makes you grow as a person in terms of preparing for adulthood and not relying on parents so much. For some people, it was hard but for me, I thought it was awesome."
"You should enjoy yourself in college, but not too much," he advises recent grads. "It's important not to go crazy, which is easier said than done. But, you have to be able to manage yourself and balance your life between work and fun."
We also talked about including faith and a relationship with Jesus in that balance. "I was sort of surprised by this, but there were a number of friends on my floor freshmen year that were Christians," Sam told me. "I got involved in Navigators, which is a Christian group on campus. I know it's not the case everywhere, but I feel like most public universities have some sort of Christian group on campus to get involved in. There are three or four here. I've been to a number of churches nearby and they are really welcoming to students."
I think Sam knows that he is blessed to have found good, Christian friends in college. He told me that he has non-religious friends, but they aren't demeaning about him being a Christian. He suggests finding a group or some like minded people to share troubles with and grow with through college. It's a crucial time in becoming independent and growing into the person you want to be.
Sam will graduate next year with his Bachelor of Science in Computer Science and a minor in Applied Mathematics. He plans to attend graduate the following year to obtain a master's degree in the same field. He's already been accepted into the 5-year program that allows him to take graduate classes as part of his undergraduate studies. Sam has been placed on the Dean's List every semester. In order to qualify for the Dean's List, students must maintain a GPA of a 3.5 or above, have no grade below a "C", and have no incomplete grades. After graduating with his master's degree, he knows he is going to be a programmer somewhere but is unsure of the focus.
We are confident that there are great things in store for Sam and are excited to be able to call him a LuHi Alumni!