Art Academy Students Honor Henry Esparza
Henry Esparza left a great legacy. Our Art Academy students worked with his unfinished pieces to continue his vision of conecting man nad nature.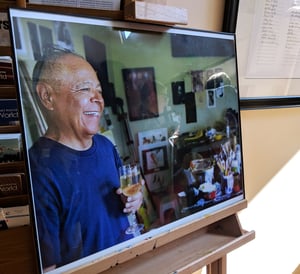 When Sandra Esparza contacted Mr. Hollenbeck about making a donation of art supplies to the LuHi Art Department, neither could have predicted the collaboration that was to follow. Sandra's husband, Henry Esparza, was a lifelong artist who split his time between his studio in Denver and Fountain Hills, AZ. After Henry passed away in May 2018, Sandra was left with art supplies, unfinished works, and a desire to pass on his legacy.
Mrs. Esparza and the Art Academy collaborated together to bring Henry's unfinished pieces to life. Henry's specialty was contemporary mixed media and collage. He worked on canvas, wood, and paper. He used mediums such as acrylic paint, decomposed granite, varnish, and branches.
"Esparza, who is a master of the collage medium, has developed a style that is passionate, spiritual and formal in his mediums. Esparza's works magnify the poetic essentials of selected 'found objects,' which become intensified by the unexpected internal relationships revealed by the juxtaposition of the individual graphic elements or objects." - from his website, www.henryesparza.com
Students took the backgrounds Henry began and added their own flare to finish the pieces. Many students found completing someone else's work to be challenging. Even Mr. Hollenbeck found the process stretching:
"Like the students, I was very uncomfortable finishing something Henry had started. It did not take long, however, for me to start enjoying the process. I really identified with the way Henry seemed to work, and I felt that it was very similar to the way I have been working recently. I imagine, although I can't be sure, that Henry may have let the work come out of the process of trial and error. I feel like he celebrated problems, mistakes, and failures and let them be a major part of the outcome. Henry is an amazing artist, and I have learned from him as I know the students have as well."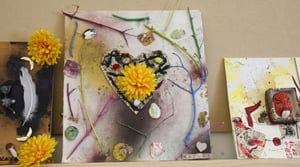 Ashley Larson shared her thoughts about the process and her final piece, "Initially, I was really intimidated by this project. I couldn't imagine finishing - and maybe even ruining - someone else's art. But when I saw a specific wood piece he had spray painted, I understood that this project was so much more than just finishing someone else's art. For me, it was about learning and remember Henry and developing an understanding of him through his art."
Students chose pieces based on the colors and backgrounds that inspired them. From there, they used paint, found objects, photographs, fabric, and paper to complete the work.
Then, 17 Art Academy students, along with Mrs. Esparza, hosted an Art Exhibit. The purpose of the Exhibit was to honor Henry's legacy and share the newly finished pieces. Many students spoke about how they incorporated Henry's style into their work.
Eme Tischart explained the relevance of adding a heart to her piece. She told that hearts were often found in Henry's work. Her twist was to make the heart realistic instead of abstract. Sabrina Moskoe shared about Henry's love of baseball. Her use of a boy dragging a baseball bat represents Henry leaving behind his identity, vision, and style of work.
Jordan Berry shared, "Henry Esparza's work connected man and nature. It was simple yet unique, and I wanted to keep this simplicity in my piece."
Sandra graciously thanked the students and shared a little of her husband's story. "He loved working with kids, and he would be so happy that they connected with his work in a way that will continue to share his message."
Henry was very socially conscious and wanted to remind people to wake up and protect what we've been given. She felt the students were able to pick up on Henry's desire to preserve the beauty and stillness in the world.
"He was an artist for the art," she shared in conclusion.
We are so thankful for the opportunity to collaborate with the Esparza family to honor Henry's legacy. Ashley Larson summed up the experience entirely. "It was a truly incredible experience to be able to remember and hopefully honor Henry Esparza through finishing his artwork. His spirit shown through his art will always be something I incorporate into my art as well as my life. Henry teaches us all that we need to value nature and simplicity as well as look subjectively into life because so much can be found when you go looking for it."