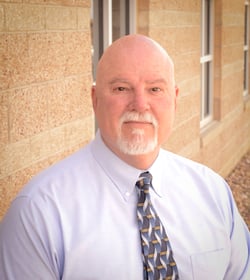 Today we celebrate the 25 years (yes, you read that right, 25 years!) of service Loren Larrabee gave to Lutheran High. Over those 25 years, his responsibilities have run the gamut. He taught PE, Health, Christian Sexuality, Strenght Training, and Pre-Algebra at the Denver Lutheran campus. He's coached football and basketball - both at the Denver campus - and served as the Athletic Director at both campuses. Most recently, he was the Director of Campus Activities.
When asked if he had a favorite role, he says, "Every role had good and challenging points, but I always felt my role as Athletic Director was the most rewarding and provided the best challenges for me. I got to know some great coaches and Athletic Directors from around the state in that role. The drawback was not being in the classroom and not having as much contact with as many kids as I did previously."
What you may not know about Loren is that he is a DLHS grad himself! He was born in Iowa, but his family moved to Westminster when he was 6 years old. He attended Lutheran grade school and naturally progressed to DLHS with a handful of other kids from his middle school class. After graduation, Loren attended Concordia College and then went on to get his Masters of Education.
In 1995, Mr. Larrabee received a call from then principal Juls Clausen asking if he was interested in filling a new position at Denver Lutheran. He shares, "I naturally was interested and came out to visit and felt welcomed and needed back at my old alma mater."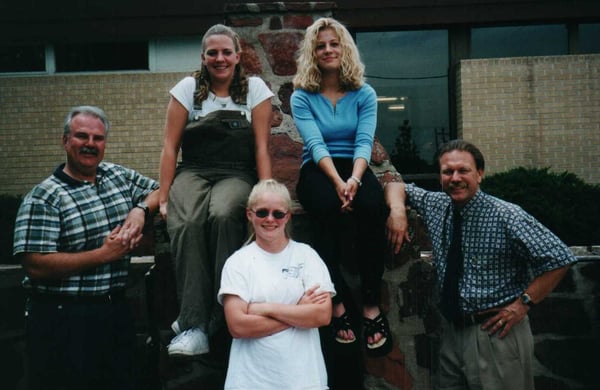 So, it's an understatement to say that Loren has seen many changes to Lutheran High over the years. He explains, "Back in the '90s and early 2000s, the Denver campus student body was composed mainly of Lutheran grade school kids and some neighborhood kids, with a relatively small "market." After the consolidation, it flipped to more of a community-wide private/parochial school with many more families and kids to serve. That being said, the foundation of why we were here and why we do what we do has never changed. The mission of leading kids and families to Jesus through our classes and programs has not wavered throughout the years."
Coaching football will always hold a special place in Mr. Larrabee's heart. But one of his favorite memories was when both Denver and Parker Lutheran boys basketball teams made it to the State Title Game and competed against each other in 2011. This happened the final school year before consolidation. DLHS took the title - what a great way to end a chapter of our school's legacy.
If you're wondering what it would take for an employee to stick with one place for so many years, Mr. Larrabee has an answer. We are blessed to have a staff that is all-in, and Loren was no exception. He shares, "I have always felt good about the fact that as a school, we gave every opportunity to every student to succeed. Although we did some "screening" of prospective students, we worked with all kinds of personalities, abilities, attitudes, lifestyles, and backgrounds. We didn't just pick the cream of the crop, although we did have our share of those kids. We did our best to help every student see Jesus in all that we did. The most rewarding "wins" were those kids on the brink or who felt like outsiders who then came around and turned into leaders and go-to kind of kids."
LuHi's enrollment continues to grow year after year, and so does our staff. So as Mr. Larrabee steps aside for the next generation of LuHi teachers, he has some advice for them, "God has given each of you special talents. Some are more obvious and frontline . . . some are more subtle and behind the scenes, but every talent is essential to the mission's success. Never forget Colossians 3:23: Whatever you do, work at it with all your heart, as working for the Lord, not for human masters."
Loren is looking forward to spending more time with family, more time traveling with his wife Deb, and more time outdoors doing things he loves like hunting, fishing, and camping. But don't worry, Loren has agreed to continue to help out with athletics and game day prep, so swing by a football game and say hi!
We are so thankful for all the time, energy, and prayers Mr. Larrabee poured into Lutheran High! Thank you for helping make LuHi what it is today.