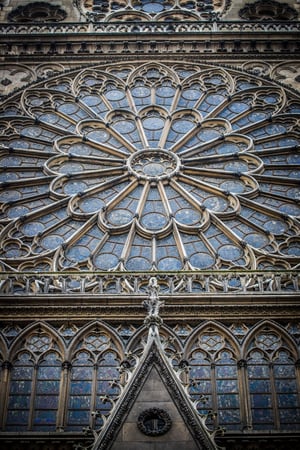 I saw Notre-Dame Cathedral in Paris for the first time while on a Denver Lutheran High tour of Europe. It was nineteen years ago that our group adventured through London, Paris, Rome, Versailles and the Amalfi Coast, and it was a trip I'll never forget.
After the tragic burning of the Cathedral on April 15, I picked up my cherished scrapbook and found pictures of my high school self standing in front of the 850-year-old French Gothic work of art. I remember that when I stood close enough to touch the ancient stones, the sheer immensity of it took my breath away, especially when I realized it was built between 1163 and 1345. 182 years of construction without modern technology makes it even more impressive to witness.
As the French capital and the rest of the world mourns the loss of "Our Lady of Paris," Artist Scott Erickson reminds Americans why European cathedrals were so vital to people pre-Reformation. He says that in America, "we build religious buildings for a teacher. We don't build buildings to be a teacher."
Cathedrals were built during a mostly illiterate era when common people didn't have the opportunity to learn about their faith through God's Word in their own hands. They depended on their priests and the stained glass imagery, sculptures, and architecture of their cathedrals to point them to Christ. The Notre-Dame represents people hungry to know God.
Soaring church spires, national icons, and sacred landmarks are all gifts to us on this earth. They point to God as we see His creativity displayed through human craftsmanship and genius. However, they are earthly, temporary things. The Notre-Dame fire is a reminder to us that they are not unshakeable. They can teach us about God, they can glorify our God, but they are not God.
King David wrote, "Some trust in chariots and some in horses, but we trust in the name of the Lord our God. They are brought to their knees and fall, but we rise up and stand firm" (Psalm 20:7-8).
As the 2018-2019 school years soon draws to a close, you may be heading off to new places. Some of you will be graduating and going to college, some of you will be starting careers, others will be traveling or taking on other challenges. Before taking your first steps, take a moment to reflect on these questions:
Where does my strength come from?
Whose opinion matters most to me?
Am I trusting in my own chariots and horses (abilities, resources, money, relationships) to succeed?
Philippians 4:13 says, "I can do all things through Christ who strengthens me." None of us has the ability to get through life with our human strength. But because Jesus went to the cross for our sins and gained for us an eternal, unshakeable future, we can count on him living in us and going before us and fighting for us.
So when you take your first steps into the days ahead, remember that Christ will help you rise up and stand firm. When you get up in the early morning after a late night of studying, He will be your strength. When you face work challenges, you can put your trust in Him. If you experience fear or sickness or death, His is the powerful name you can call on for help.
"Therefore, since we are receiving a kingdom that cannot be shaken, let us be thankful, and so worship God acceptably with reverence and awe, for our God is a consuming fire" (Hebrews 12:28-29).
Prayer
Eternal God, you are the Great I AM. You are greater than things on this earth and greater than my inadequacies. Fill me with your Spirit for the days ahead, and help me put my trust in You. Go with all our students and teachers as they spread out to different corners of our city and country and the world as we begin new journeys. May all that we do be to your glory! Amen.