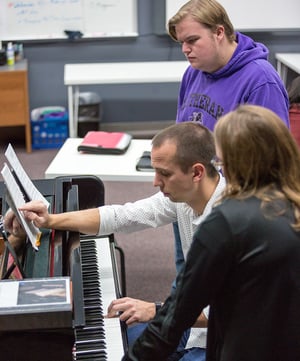 Recently, Chris Loesel was named to a new position as the new Director of Performing Arts at Lutheran High School. With this change in job description, we wanted to find out a little more about the new role and what this will mean for Lutheran High.
So, what is a Director of Performing Arts?
Well, this is actually a brand new position for Lutheran High School. As far as I know, this position has never existed in the history of Lutheran High or Denver Lutheran. Basically, a Director of Performing Arts oversees the vision, funding, and functioning of any performing arts group on campus. For Lutheran High, this would include both the music department and the theater department.
My job will focus on vision, recruitment, and funding.
Tell us more about your specific job. What will your new job description entail?
Well, the first area I oversee is the vision for performing arts at LuHi. As it always has, that vision begins with the Gospel. Lutheran High performing arts have always been blessed with the opportunity to put Christ at the center of all that we do. I simply get to magnify that mission in what we do as a program.
In addition to our central purpose as a program, I will be working to bring a coherent message and vision to all areas of the performing arts. This will also involve looking for areas in which we can expand our reach as a program to serve more students.
Recruitment is another target area for me. I am currently seeking out ways for us to get the word out about LuHi performing arts to any interested middle schooler. We want Lutheran High to be the first place that students go if they are looking for an excellent, Christ-centered performing arts program.
In addition to vision and recruitment, I will be overseeing all of the funding for both the music and the theater programs. Part of that role will be building a budget that serves the vision of the program and the other part will be finding new avenues and opportunities to fund that vision.
Ultimately, it is my goal to create a program that pours into the lives of students spiritually and enables them to pursue their passion for the arts.
Nothing from the music side of things will change for me. I will continue to head up the music program and teach Jubilate, Men's Choir, Music Theory, and Worship class.
Are you excited about the change in job description?
Absolutely! I believe that God has given me a desire and a passion for big picture thinking and planning. I love creating a vision that serves the needs of others and then figuring out a way to take it from vision to reality. Getting to do this on a smaller scale with the music program and the musical has been one of my biggest joys through my first years of teaching.
I am thrilled to get to expand to include all of the performing arts in my dreaming, planning, and bringing to reality.
Why is Lutheran High adding a director of performing arts? How is this going to benefit LuHi performing arts?
First of all, I want to thank the administration for freeing up the resources to make this position a reality for Lutheran High. I think this speaks to the administration's commitment to developing a top notch performing arts program that is recognized throughout the south metro area.
We want students to have a Christ centered environment where they can develop their gifts as musicians, dancers, actors and actresses, performers; we want students to be able to grow in their gifts and talents more than they could have imagined in their four years at LuHi. This position helps accomplish that goal and will hopefully grow the program to new heights.
What are some specific things that you hoping to accomplish in this new position?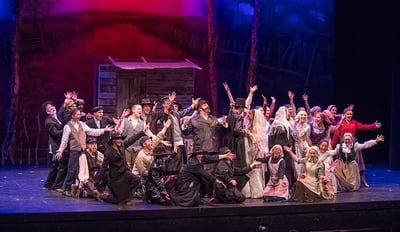 Great question! It is important to first recognize that a lot of what Lutheran High performing arts has been doing is already excellent. I just get to build on what is already there and get the word out to more people. In terms of specifics though, my first goal is to create more opportunities for theater students at Lutheran High.
As the number of students interested in theater continues to rise, I want to make sure that we have opportunities for as many people to be on stage as possible throughout the year. Along with Ms. Lietzau, we are exploring possibilities for additional shows and opportunities to develop the skills of young actors and actresses right away when they start in the program. We don't want to limit stage time to the top 5-10 individuals in the program but rather give as many people opportunities as possible.
My second goal is to implement an intentional recruitment strategy for performing arts at Lutheran High. We believe it is so important for students to be able to have a Christ centered performing arts experience. When a lot of the arts world wants to remove Christ from as much of their experience as possible, we want to do the complete opposite.
Lutheran High is a place where students can experience God's gift of the arts as a child of the one that gave us the arts. We want people to know who we are, why we exist, and the opportunities that are available to students if they come to LuHi and join the performing arts.
Third, I am working to find ways to fund the growing vision we have for the students involved in performing arts. We have some really exciting plans for the program and it will take the support of many individuals that are passionate about the arts.
We also have incredible people that direct shows, choreograph, conduct pit orchestras, play in pit orchestras, and lead teams to make everything happen throughout the year. Even though they would do it for free, I want to make sure that they are thanked and compensated for their work just like we would compensate a coach here on campus. We have an incredible team and we want that to continue!
Does having a director of performing arts change anything for the other performing arts staff members?
No, this only enhances what we are already doing here at LuHi. Ms. Lietzau will continue to direct and be in charge of the vision of each specific show produced on campus. Ms. Webb will continue to work with instrumental music and Mrs. Elmshauser will continue to direct Bel Canto. We will also continue to have the excellent support staff needed for productions throughout the year.
Any long term goals for performing arts at LuHi?
I do have several long term goals that are continuing to be refined.
One that I would love to see happen would be expanding the course offerings at LuHi to include the theater side of performing arts. We have a number of music courses offered and I want to explore possibilities for theater. Whether that would be acting classes, dance classes, or even technical theater classes, there are plenty of areas that we could explore as we look at additional course offerings for the future.
Any final thoughts or things you would like to share?
I love the performing arts and I love Lutheran High. It is my prayer that the performing arts program at LuHi can be a light to a world that needs the hope of Christ. I am excited to work with many of you in this new role as we mould the next generation of followers of Christ to share the message of hope we have in Christ.