Interests and passions drive all of us toward hobbies, volunteerism and in many cases, careers. That's why all of us here at LuHi take great care to nurture the passions of our students.
While some students arrive on campus with clear ideas of their passions and areas of interests, we provide exposure to many professions, ministries, service opportunities, and classroom instruction to help students discover their interests.
Student clubs are an excellent outlet for pursuing passions and embodying the mission of Lutheran High. LuHi encourages students and is receptive to student ideas, clubs, service projects, and leadership initiatives.
Interact Club: An Overview
A rapidly growing club here at Lutheran High is Interact. Students who participate in Interact club are part of a much larger organization. Partnered with Rotary, Interact helps our young men and women develop crucial leadership skills while embracing and discovering firsthand the notion of Service Above Self.
Interact organizes several community projects every year, and Rotary club sponsors mentor and guide students as they carry out their projects.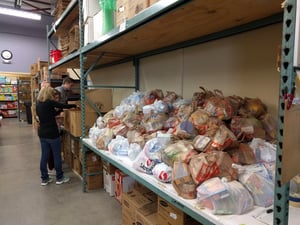 The students of Interact have also taken over the planning and implementation of LuHi Serves, a day of praise and worship, fellowship with each other, and serving our community. During LuHi Serves, students, siblings, parents, faculty and staff meet at LuHi to share in worship, then disperse to visit and volunteer at 10+ different organizations throughout the Parker and Denver Metro area. It is a powerful day of worship, fellowship, and service for the entire LuHi family.
A Firsthand Perspective
Our administration is continuously impressed by the level of service demonstrated by Interact students. But perhaps the best way to understand the impact of this club on our students and community is to read more from the perspective of one of its members.
Here are some observations from Interact club member Anne Fort:
Making a difference in the community.
I have participated in some amazing community projects with Interact Club. Some of my favorites include making a meal for Love Made Claim and making bags for the homeless. Love Made Claim is a great organization that helps women who are in or have been in the sex industry. We were able to provide dinner for many of these women and allow them to be loved how Jesus would love. When we made bags for the homeless, we were able to make care packages that included some critical supplies. These projects provided opportunities for us club members to grow closer as a group while working on something meaningful and impactful on the lives of others.
How Interact impacts club members.
Participating in Interact club gives me an opportunity to put Service Above Self. That is Rotary's model, and I think it is a great one! By being able to serve others, it has made me a better person, but also allows me to go into college with a heart for service.
I also feel that it has helped me to grow my leadership skills. I do not like to talk in front of big groups, but sometimes that is necessary.
The best part of Interact club.
My favorite part of being an Interact member is getting to be able to help the Kingdom. I believe service is one of the many ways we can serve the Lord. I love knowing that I am doing something meaningful.
I also like how Interact allows for students to engage with other students. We have opportunities to work with other schools and go to luncheons with the other Interact clubs. This is a fantastic opportunity and allows us to build relationships with students outside of our LuHi family.
Interact club is making a difference for our students and our community.
A whole host of LuHi clubs are helping to nurture tomorrow's leaders. To learn more about Interact, LuHi clubs or life at Lutheran High, contact us now to schedule a tour.