High school is hard. Really hard. It is more common today than ever before that youth experience loneliness, bullying, cliques, depression, anxiety, and other struggles on a daily basis. Knowing that Lutheran High is a close-knit family, Director of Campus Ministry Marty Kohlwey and other staff asked themselves: how can our school help students walk through these difficulties with love and courage?
Their answer came in a vision for a new campus club named Thrive.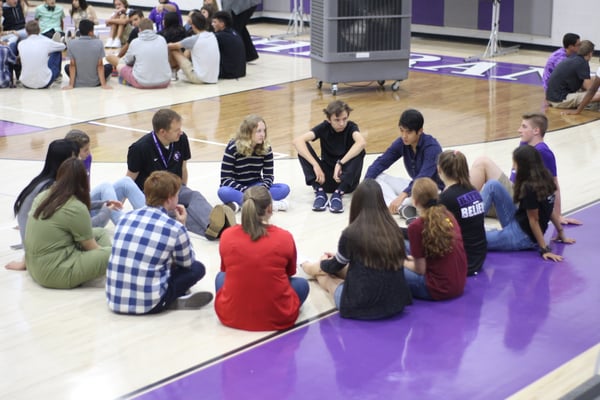 What is Thrive?
Thrive exists to encourage, empower, and equip students to love, serve, and care for the people around them in response to God's amazing love. The vision of Thrive is as follows:

Fellowship and growth in faith outside of class
Encouragement in dealing with the struggles of high school
Training in leadership
Development of communication skills (listening and understanding)
Training in conflict resolution
Discussions on assertiveness--not aggression or passive-aggression
How to pray for others and care for them; how to be a good friend and make good friends
Training for Caring
Students are on the frontlines of the battlefield. They are the trusted ones and sometimes they are the only ones confided in by a struggling friend. However, they often don't know how to care for friends in difficult circumstances. That's where Thrive comes in: it teaches them how to have empathy and open their eyes to help their friends.
"I love thrive because it's a way that we can grow closer to and learn from each other," says senior Reno Knutson. "As a leader, I'm super happy that I have the opportunity to be there for the girls whenever they might need me. Thrive is a place where we can all lean on each other and grow in our faith."
Training for Belonging
It is an important distinction to make that Thrive does not train students to be counselors; rather, it helps students set a "belonging culture" of the school. In other words, it teaches them to have eyes on everyone, to include everyone, to recognize potential conflict, and how to be a friend to students who may not even know they need one.
Additionally, Thrive is training students how to help those friends outside LuHi--the ones who aren't here everyday hearing the Gospel, and the ones they'll meet in college and beyond.
The overarching theme of our belonging culture is to focus on The One: when you focus on God, you focus on the least of these.

Training by Mentorship
Mentorship is a powerful training model, and therefore is the model chosen for Thrive. Training began this past summer with about thirty upperclassmen. Those thirty students were mentored by trusted adults, and those thirty were supplemented with seventy more students who had shown interest to form small groups. When school began in the fall, the whole student body was invited to participate.
Each small group ranges from 7-12 students. The small groups try to connect upperclassmen leaders with underclassmen to create community. The goal is for student leaders to check in with their small group throughout the month between meetings.
A large group meeting is held once a month and includes worship songs, a message, discussion, and small group prayer time. Students learn practical ways to be Jesus to the hurting community around them. For example, the last two sessions dealt with conflict resolution. Students role-played handling conflict with parents and hearing hurtful things from classmates in the hallways.
Please join us!
Anyone is welcome to attend! Our goal is for every student to join so that Lutheran High is a community where each person is loved and cared for.
Our next meeting is January 12th from 7-8:30pm - see you there!