Back when you were in high school, you likely counted down the days until you could pick up your yearbook toward the end of the school year. You'd search for pictures of you and your friends, gather signatures, and relive the previous year.
Now that your high school days are behind you, your yearbooks provide a snapshot in time. They help you recall memories of school and friends, and can jog old memories you may have forgotten.
Yearbooks are an important part of our high school years, and for students who participate in Yearbook club at Lutheran High, they take that responsibility seriously. They also have a great deal of fun and learn some tremendous lessons working on the yearbook throughout the school year.
Yearbook: An Overview
While you may only think about yearbooks at the end of the year, the Yearbook club is working hard to create a memorable book from nearly the first day of school. Yearbook club members observe, document, photograph, write, edit, coordinate, and much more.
LuHi Yearbook club members have their fingers on the pulse of life at LuHi. Their goal? To capture that feeling and document it in each year's yearbook. They gather information across campus, interview lots of students and transcribe those interviews, editing them into interviews and articles within the Yearbook.
They email coaches, attend sports events and take pictures of students participating in the athletic programs. Students across campus can easily spot Yearbook club members -- they're the students who are wearing cameras around their necks during fun events and activities like dances, Homecoming activities, and more.
What types of students thrive in Yearbook?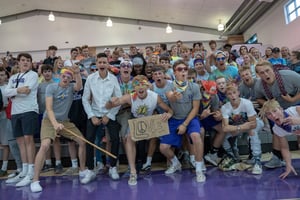 Yearbook members have their finger on the pulse of life at LuHi. That means a lot of activities and a great deal of work throughout the year! As a result, student members should have a strong work ethic and should be considerate toward other Yearbook members and students across campus.
Yearbook is an interesting club, in that it is some ways like a class, but without the grade. Students who thrive in Yearbook enjoy writing, creating, brainstorming, taking photographs and more. They understand how important deadlines are and stick to them, even without a grade. They work well with other students (you should see the Yearbook group text throughout the year - it is BUSY!).
Students who enjoy sitting down and focusing on important tasks tend to really thrive in Yearbook. While attending and participating in school events is an important part of participation in Yearbook, there is also quite a bit of tedious work, including texting, editing, working in spreadsheets, and other important administrative-type tasks.
"Being in Yearbook club has taught me great life skills like professionalism, sticking to deadlines, and asking for help when you can't do something the best it could be. Yearbook is one of the best extracurriculars I've done and I only wish I had been in it throughout more of my high school years!" – Lindsey Gross, Class of 2019
What students gain by participating in Yearbook
In many ways, Yearbook mimics real-world collaboration and tasks students will find in the workplace. Starting from scratch and working together toward a major goal is no small feat, and our students relish the opportunity to be a part of something big
LuHi Yearbook students really commit themselves toward putting in the work to create and deliver an on-time, robust yearbook. Playing a role in that creation, big or small, is a significant bullet point on their resumes.
Many students take active leadership roles within Yearbook to ensure each section of the yearbook is on target each year. Our students take incredible initiative to draw a plan and see it through. In fact, our Yearbook faculty advisors often serve as job references for students to offer insight into their performance and achievements as they seek their first jobs.
"Working in yearbook has been a great experience and a great way to help others remember their time at LuHi. Getting to see all the photos of everyone in athletics, clubs, and other activities and then putting together pages of memories for them to look back on has been such an honor and I am so glad I got to be involved in this!" – Jamie Holmstrom, Class of 2019
Yearbook students document the student experience that is uniquely LuHi.
To learn more about Yearbook, or life at Lutheran High, contact us now to schedule a visit and tour.