Coach Duitsman achieves 200+ wins
The LuHi Athletics program is excited to announce head girls basketball coach Mark Duitsman achieved his 200th win of his career this season.
written by senior basketball player, Sara Sauceda
The Lady Lions recently finished their season with a State Championship victory. Led by coach Mark Duitsman, the girls finished the season with a record of 23-4. Included in those wins were League, District, and Regional titles.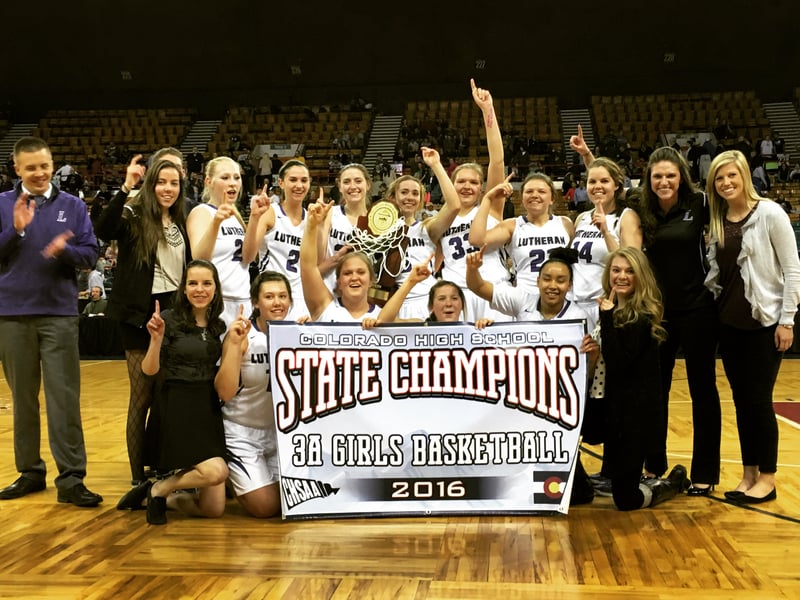 The road to state began with the Lutheran Lion boys and girls basketball teams hosting the Regional Tournament at home. Following an action packed game against Coal Ridge, the Lady Lions and Coach Duitsman had more than just a Regional Championship to celebrate; after eleven years as the head girl's basketball coach at Lutheran High, Coach Duitsman had achieved his 200th win.
When asked how he felt about the victory, Coach D said: "It was an awesome opportunity to reflect on all the amazing coaches and players I've been surrounded by. I'd be lying if I said it wasn't overwhelming to think how far we have come in 11 years."
Following continued reflection on his great coaching achievement, Duitsman also said, "200 wins was great but all I wanted at that time was 201 the next day - which meant this team was going to state."
In 11 years, Coach Duitsman has made an astounding six consecutive trips to the state tournament. Of those trips, he led his team to three appearances in the Final Four and three appearances in the State Title game - two of three resulting in a State Championship.
Current assistant coach and one of Coach D's former players, Lindsey Radic, shared her excitement about the achievement, "Coach Duitsman has taken this program from losing records to two state titles! That takes a great coach who is willing to work through the lows and never gives up on his team. Coach Duitsman has been through it all in 11 years and has never once overlooked the little victories. If any coach is worthy of 200 wins its Coach Duitsman."
Throughout his six trips to the tournament, Coach Duitsman has established an impressive record of 12-5. Coach D now has a state championship in both 2A and 3A. Looking back on the journey, his favorite memories included his first district championship, his first season with a winning record, and his first trip to state. Duitsman said "It's about the gradual climb and all of the firsts. More than state titles, I just feel so blessed to have memories with such awesome people."
When asked what his favorite part about coaching is, he responded saying, "The process, the ups and the downs, and the growth. The adversity and the way every season is different and presents its own challenges. It's always fun to try and put the puzzle together and to be playing your best basketball at the end of the season."
Not only did Coach Duitsman pick up his 200th win this year, he also received the 3A Coach of the Year honor. These milestones serve as further proof of the outstanding job Duitsman has done as not only head coach but also off the court. He cares deeply for each of his players and wants to see them develop into ladies of strong, Christian character.
He has impacted the lives of his players and inspired greatness in each of them; not only focusing on improvement on the basketball court, but also in the classroom and as young adults. Never letting the players forget for a second to keep God at the center, he encourages his team to acknowledge where each of their gifts and abilities come from.
Coach D is an asset to LuHi Athletics. There is no doubt in that this milestone will not be the last for Coach Duitsman. There is certainly more to come.