Congrats to this year's student-athlete signees!
Each year, LuHi student-athletes put in the work to make their dreams of playing their sport in college a reality. Congrats to this year's signees!
Some athletes dream about playing in college, and some athletes work hard and achieve their dream. This is why LuHi has always paired character development with top skills in our athletes, knowing full well that talent alone does not lead to success. Our athletes learn sportsmanship, integrity, and perseverance on and off the field, and that's why we have graduating students each year who launch from LuHi's program into successful collegiate careers.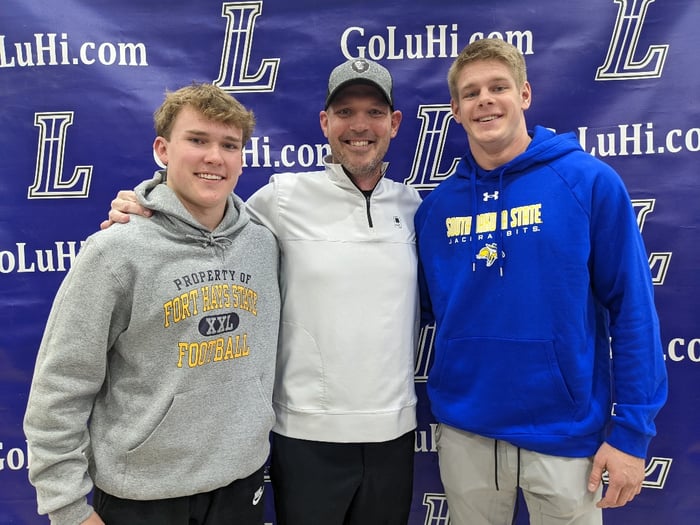 National Signing Day
So what does it mean to sign?
On National Signing Day graduating student athletes all over the country sign letters of intent to play for a particular school. This means they're agreeing to attend a Division I or II college for one academic year, and in turn, the institution is agreeing to offer the student athletic financial aid to play for a minimum of one school year.
LuHi holds multiple signing days in the gym each year to celebrate our athletes' accomplishments and send them off with prayer and blessings from our coaches and students. This year LuHi is proud to honor 17 Lions in 8 respective sports who signed in the fall, winter and spring. Join us in congratulating these talented student athletes. We're excited to see how God uses their abilities and dedication for his glory on the field, court, track, sand, or mat!
Fall Signing:
Brady Webb: Colorado Mesa University | Baseball
Siri Bates: Casper College | Volleyball
Kenzie McSpadden: Missouri State | Beach Volleyball
Preston Holt: Southern Virginia University | Wrestling
Winter Signing:
Bryce Johnson: South Dakota State | Football
Ryan Allen: Fort Hays State | Football
Spring Signing:
Jonah Beard: Colorado Christian University | Track & Field
Audrey Brgoch: Black Hills State University | Volleyball
Luke Byler: St. Thomas University | Baseball
Jadyn Clark: Southwest Baptist University | Soccer
Ari Jacobs: CSU Pueblo | Football
Gabe Johnson: UCCS | Soccer
Andrew Krobnbach: Arizona Christian University | Track & Field
Tyler Martin: Waynesburg University | Soccer
Sam McCloud: Dodge City CC | Track & Field
Abby Mensing: Hanover College | Lacrosse
Brin Schneider: Nebraska Wesleyan University | Volleyball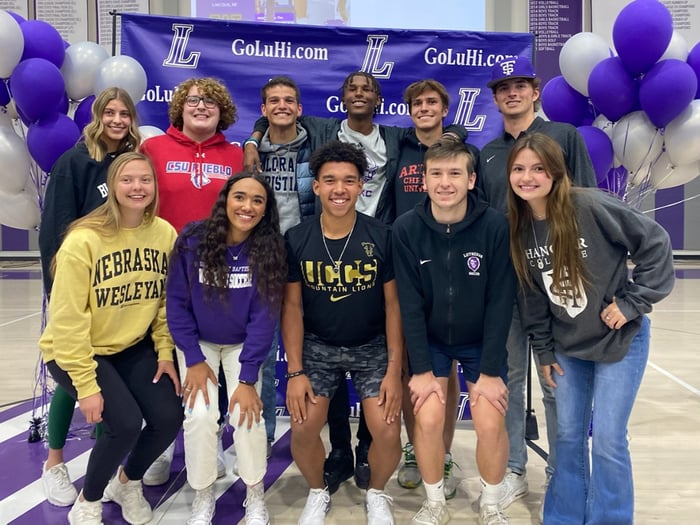 If you're an underclassman interested in competing at the collegiate level after graduation, please meet with our college admissions counselors as soon as you can. The recruitment process can seem overwhelming at the beginning, but LuHi offers multiple seminars and meetings that will guide you through the requirements—hopefully, all the way to signing day. Our coaches and counselors will do all that they can to help you achieve the college sports career of your dreams.
Congratulations and God's blessings to our seventeen exemplary athletes!