If you're a human being, you've faced fear. Maybe it was on the basketball court or before performing a solo on stage. Maybe it was during a difficult conversation with a friend, applying for college or standing up to peer pressure.
Let's imagine that your fears are like what Joshua faced in the Old Testament just before leading the Israelites into the Promised Land. But for a change, let's place it in the setting of a modern day high school.
The Set-up: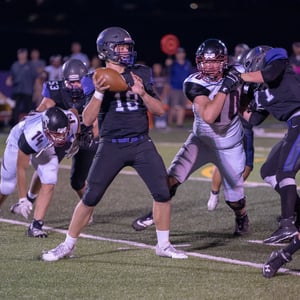 You play on the underdog football team The Israelites. Coach God has appointed Moses as the star quarterback and led your team through forty long games this season. The players haven't always followed Coach's Playbook so there have been disappointing losses. But you've seen Coach work miracle plays. Those miracles have led you to the championship game.
You, Joshua, are the second string quarterback. You've been Moses' shadow for the whole season, listening to the strategies and training hard, hoping that one day you might be sent on the field. Coach calls you into his office the day before the big game.
The Scene:
"Joshua, I have news for you," says Coach God.
"Yes, Coach?"
"Moses disobeyed me and I suspended him from the team. You'll play for him in the championship game. The opposing team is ranked #1 and it'll be tough, but you've been training hard."
Your adrenaline rushes, but then fear consumes you. "Uh, thanks Coach, I really appreciate it. But I don't feel ready."
Coach looks you square in the eyes. "Joshua, be strong and courageous, because you will lead your team well. Be strong and very courageous. Be careful to obey all my plays; do not turn from them to the right or to the left, that you may be successful wherever you throw. Study my Playbook all day and night so that you may be careful to do everything written in it. Have I not commanded you? Be strong and courageous. Do not be terrified; do not be discouraged, for I will be coaching you from the sidelines, and will be with you wherever you go" (loosely translated from Joshua 1:6-9).
Just like quarterback Joshua, Biblical Joshua faced intense fear, but his fear was in facing enemy nations who wanted to wage war against the Israelites and keep them from the Promised Land.
God knows that it's easy for anyone to be paralyzed by fear. He reminded Joshua to be strong and courageous three different times! Whenever our fear shows up, God gives us the same encouraging promises he gave Joshua:
Be strong and courageous
This does not mean mustering up our own courage. Instead, it means thanking God for our weaknesses which require us to rely on God's strength (2 Corinthians 12:10).
Meditate on my Law day and night
God has given us everything we need in His Word. When we spend time daily with Him, it is like strength training; he gives us wisdom, truth and endurance to accomplish the tasks he sets in front of us.
Do not be terrified or discouraged
Fear is not our default mode. "For God did not give us a spirit of timidity, but a spirit of power, of love and of self-discipline" (2 Timothy 1:7). Courage is choosing to act in faith in God's power, even when you're fearful.
The Lord your God will be with you wherever you go
God has given us the Holy Spirit to go with us wherever we go, and through Him the same power lives in us that raised Christ from the dead (Ephesians 1:19-20). We can ask for no greater power!
Prayer
"I love you, O Lord, my strength. The Lord is my rock, my fortress and my deliverer; my God is my rock, in whom I take refuge. He is my shield and the horn of my salvation, my stronghold. I call to the Lord, who is worthy of praise, and I am saved from my enemies" (Psalm 18:1-3).