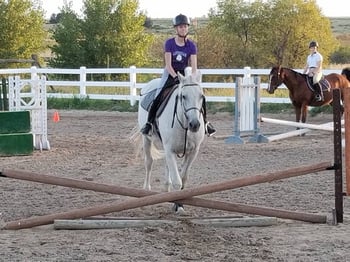 Last fall, a new club was added to Lutheran's gamut of extracurriculars: Equestrian. It's easy to notice this club at Lutheran's Open Houses for prospective students because it can be differentiated by the saddle and riding boots next to their table. The equestrian team, though small, is now in full swing.
The club welcomes all skill levels and all levels of commitment – no horse ownership required. If you have a love for horses, are interested in learning more about horse care, or are just looking to try something new, you're welcome to join the club. There are many different ways to be involved in the equestrian club.
Participation Options
One of the most popular is to participate in horse-related service projects. Last fall, the club visited Evenstar Farms in Elbert, Colorado. Evenstar is a barn with a high population of older rescue horses. Each horse has a unique story and has come a long way from the desperate straits they were in before they got to Evenstar.
On this service project, students washed out water buckets, painted jump poles, groomed horses, and learned about a farrier's duties (a farrier takes care of horses' hooves, which includes shoeing the horses).
Students can also participate in once a week riding lessons. Lessons involve getting the horse from the paddock or barn, grooming the horse, tacking up the horse, and then riding for an hour.
Horse grooming and tacking includes:
Brushing the mane and coat
Checking the hooves and "picking out the feet"
Saddling the horse
Putting on the bridle
Riding Lessons and Shows
Riding includes walk, trot, canter (riding the horse at different paces), and then usually jumping. After the lesson, students have to clean their horses and their tack before putting both away. It's a lot of work, but for students that love spending time with horses, every second is enjoyable.
Many of the students who take lessons also participate in horse shows, where they compete and show their skills, several times a month. Although our students compete in many different shows, some of the most exciting are with the Interscholastic Equestrian Association, or the IEA.
One of the main differences between IEA shows and other horse shows is that students do not have to bring their own horse. Instead, students must draw a horse's name out of a hat. This almost always results in students showing a horse they've never ridden before.
IEA provides all the horses for the competitions:
"The unique aspect of the competitions, both at the local and national level, is that none of the riders will supply their own horses or tack. Instead, the host team arranges for the horses and equipment. Since the horse is new to the rider, the scores are based upon horsemanship and equitation. All disciplines offer a variety of ability levels from beginner through advanced. The IEA has set guidelines for the placement of new riders entering the IEA to allow for the unique program format of riding an unfamiliar horse."
This creates a different dynamic for horse and rider, but a valuable one – it presents an interesting challenge for the rider, and shows her skills in a different way.
College scholarships are also available for students through awards in competitions and sportsmanship activities.
English vs Western Riding
Traditionally, there are two different types of riding - English and Western. The most obvious way to tell them apart is to look at the saddle and the clothing the rider is wearing. A Western saddle is bigger and more comfortable to sit in - it also has a saddle horn at the front of the saddle. English saddles are smaller and do not have the horn at the front. Western riders usually wear cowboy boots and jeans. An English rider wears short or tall boots and, if competing, breeches and a competition shirt and jacket - which looks like a high-collar shirt with a blazer.
The events in which a horse and rider will compete is also very different. Western riders will often compete in events that have to do with speed and agility, while English events involve jumping over fences or focus on how well a rider rides.
The Lutheran Equestrian Team rides English style, partially because of interest and partially because English is more popular for the IEA in Colorado - which means more opportunities for our students to compete in shows.
Club Founder and President, Kellie Marquart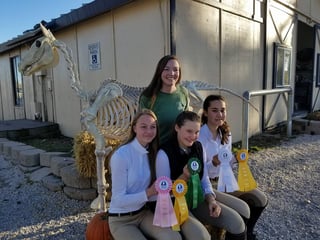 The success of the club can be attributed to founder and president of the club, sophomore Kellie Marquart. We interviewed Kellie to get to know the club a little better.
When did you start riding horses? I started riding at age three, and that's also when I won my first show. I've been riding ever since.
What do you like about riding? I like that it's an individual sport, and that you're basically competing with yourself to make yourself better.
Why English riding instead of Western? English actually helps you with your balance more, and you learn more control of the horse and what you need to do. You learn how to feel the horse more, and that makes you a better rider. I suggest learning English first, and then learning Western.
Why did you start the team? I knew there were people at Lutheran who wanted to ride and to learn more about horses, so I thought what better way than to use my experience and to have fun and teach everybody.
What's the goal of the team? Our goal is to build friendships and learn more about riding – about all the different things that go into it, and how much work is put in.
Kellie competed in the Zone 8 Regional Finals on Saturday, February 17. She and other team members hope to advance to Zone 8 Finals in early March.