Every student can experience some nervousness about the upcoming school year. However, freshmen and seniors are in a particularly unique spot as they anticipate the future. Freshmen tiptoe or maybe dive into the vastly unknown high school experience, meeting new faces and classrooms and challenges around each corner. Seniors look forward to their last year of high school with mixed emotions, knowing that the next stage of life is a few months away and there is a lot to be done before graduation.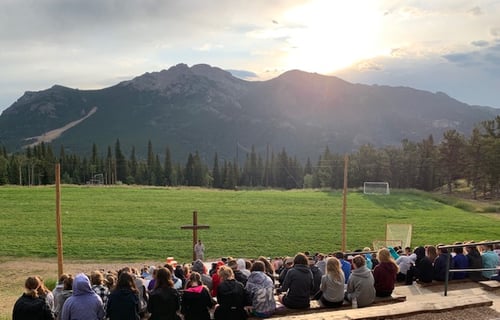 To prepare students for these pivotal years, LuHi gives senior and freshman classes the wonderful opportunity to go on a fall retreat near the majestic Rocky Mountain National Park for a bonding adventure with God and each other they will never forget.
Senior Retreat
Senior Theology teacher and Director of Campus Ministry Marty Kohlwey will lead the seniors on their retreat to the YMCA of the Rockies in Estes Park for outdoor activities, team building exercises, Bunco games, worship and Bible studies. The focus will be on encouraging students not to give in to senioritis, but to finish well: to mentor underclassmen, prepare for life beyond high school, and use every moment that's given to them to grow in character, academics, and in their relationship with God to transition to the next call on their lives.
The Senior Retreat is coming up at the end of September.
Freshman Retreat
The mission of this Retreat is three fold. First, it's rooted in bringing the Freshmen Class away from the world and into a new and exciting environment (GATHER). We all get to be blown away by God's creation as we get to know each other in a less formal setting. As they experience all the excitement of the activities, our desire is for them to be brought together as a class and to create new friendships (CONNECT). It is a lot easier to be yourself and to connect with others when everyone else is a freshman too!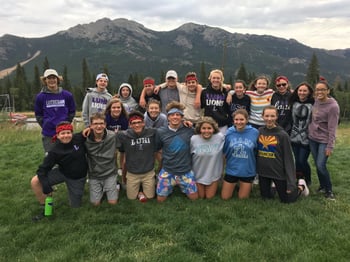 Lastly, the main mission of freshman retreat is for these new students to experience Jesus in an authentic and personal way (EXPERIENCE JESUS). We seek to share God's love with the freshmen in a unique setting early in their career as a Lion, and to set the standard for who we are at LuHi.
The Freshman Retreat is filled with group activities, Bible studies, and high ropes course elements at Camp Timberline. Some of the high ropes course elements are a zipline, rock wall, pamper pole leap, and many more! Usually, everyone's favorite part of the Freshman Retreat is our Thursday night worship night called the "Big Event," where the whole camp comes together for a high energy worship session and a message.
Retreat Leader, Kevin Busch, shares that his favorite moments come from the staff connecting with new students. "We take 11 staff members as chaperones who get to connect with their new freshmen students in a more informal setting. We love that opportunity to connect in a new and exciting environment, it really makes a difference!"
Connecting Freshman and Seniors
It's important to our culture that freshmen feel the seniors are approachable school leaders. The Freshmen retreat helps that happen right off the bat. Mr Busch shares that, "There were so many great moments from this year's retreat. I think my favorite part was watching the Senior Leaders do such a great job leading their small group Bible studies all weekend. They brought the energy and made the experience so amazing for the freshmen. So many freshmen left retreat knowing exactly what we are about at LUHI, they got a full taste of our culture."
Seniors grow from this experience, too. They learn valuable group leadership and bible study skills they can share with their peers.
This year's school theme verse is Colossians 3:12-14: "Therefore, as God's chosen people, holy and dearly loved, clothe yourselves with compassion, kindness, humility, gentleness and patience. Bear with each other and forgive one another if any of you has a grievance against someone. Forgive as the Lord forgave you. And over all these virtues put on love, which binds them all together in perfect unity."
Please join us in praying for our freshman and senior students this year! Pray they will know they have been chosen for God's special purposes, that they will dress themselves like Jesus, and that they will carry forgiveness and love into their classrooms, hallways, and athletic fields in the 2019-2020 school year.