Hey, incoming Freshman! We want to introduce you to some of the teachers you might have in class next year. Even if you don't have them in class, you're guaranteed to see their friendly faces around campus. We can't wait to see you this August. Now, let's meet some of your future teachers!
Diane Hollenbeck
I have always wanted to be a teacher of English. In fact, it says so in my 8th grade yearbook: Favorite Subject-English, Future Occupation-teacher. God placed that calling on my heart very early in my life.
I have been teaching just over 31 years now, and I have had the unique distinction of teaching at two of the three schools I attended. My first teaching job was in Queens, New York, and then I moved to Kansas City. After five years in KCMO, Mr. H and I moved back to Denver, which is my home.
I love to read, mostly the classic and historical fiction; and I love watching Masterpiece theatre and BBC productions. I enjoy live theatre and believe it to be one of the best learning avenues for literature, and that is why I take students downtown to see plays. This year we saw a wonderful production of Shakespeare's Twelfth Night.
I am a sports fan. Although I enjoy watching the Rockies at Coors Field and on T.V., I much prefer watching all the athletes at LuHi engage in competition. As far as sports that I like to play, well, I'm an avid pickleball player.
Students can expect to read classical literature which challenges them to think on a deeper level and respond in a more thoughtful manner. The literature also provides an outstanding example for honing writing skills as well as augmenting the students' vocabularies.
Matthew Zoeller
Hi, I'm Mr. Zoeller and I've been teaching high school Spanish for as long as 9th graders have been alive, but this doesn't make me feel old! Oftentimes foreign language teachers are stereotyped as being unique, quirky, and good dancers. I like to think I'm no exception.
Not only am I the tallest member of the LuHi staff but also would bet that I am also the "most hydrated" (a fact yet to be proven). Don't tell the upper classes, but I like teaching 9th graders best because you guys are still willing to be silly, and silliness is a driving force in learning a foreign language.
Students can expect Spanish I at LuHi to be completely different than the Spanish classes they had in previous years. There is no textbook, no worksheets, and minimal homework yet I feel very strongly about using every minute of every class towards improving Spanish.
For students who want to "fly under the radar", you will be disappointed at how large my radar is, but you'll also be happy to be a part of the class so it will all work out. Don't worry. Get ready to communicate and dance (and hydrate).
Savanna Rogness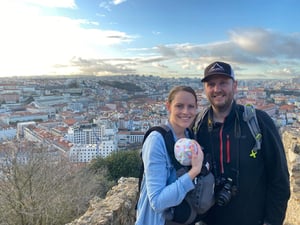 Hi! I am Mrs. Rogness. I live in Parker with my husband, Mr. Rogness (also a teacher at LuHi) and daughter, Eva Lee. I love snowboarding, musicals, anything in the mountains, hanging out with my family, and reading in the summers. I coach volleyball and help with Interact Club.
I have worked at Lutheran High School since 2014. I teach Micro and Macro-biology, Anatomy and Physiology, and am the administrator for the Nurse Aide class. I love exploring God's creation and am especially fascinated by the intricacy with which He has made us.
In class, my hope is to help you also be in awe of His work while we explore details down to cellular processes that He has developed, as well as the uniqueness of each organism. In my class you can expect to be challenged to ask questions, pursue learning, and to do your best.
You will engage in lab experiences, group work, class lectures, and individual research as we explore cells, cellular processes, biological diversity, origin of life, processes of life, as well as plants and animals.
Jonathan Schlecht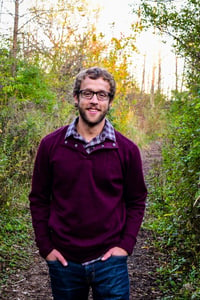 My name is Mr. Schlecht, and I teach freshmen Theology I and Algebra I. I am originally from Colorado, but I went to college in Wisconsin. I am married to my wife Leah and have a one-year-old corgi named Tator! I coach the Girl's Freshman Basketball team at LuHi, and I love watching and following sports. Go Pack Go! I have a passion for teaching and students, and I especially love teaching about the love and forgiveness of Jesus!
What can you expect in Theology I as a freshman? I'll start with what not to expect. Do not expect to just sit there and listen to me talk for 40 minutes straight. Do not expect to have time during class to fall asleep or sit on your phone. Do not expect to allow others to carry the class.
So what should you expect? Expect to be engaged and on your toes. Expect to have fun! Expect to contribute. Expect to get to know your classmates well. Expect to see pictures of a cute corgi named Tator. And most importantly, expect to dive into God's Word and hear on a daily basis how loved you are by our amazing God! I have a genuine care for each and every one of my students and their relationship with the Lord.
Hannah Swafford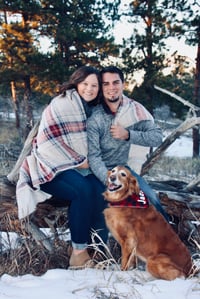 My name is Hannah Swafford and I teach World Geography and Government here at Lutheran High School! I started at Lutheran in the fall of 2018 and have loved it ever since. It really is a special place.
I moved to Parker in June of 2018 after getting married to my husband, Ben. We are both originally from Texas but welcome the cool Colorado air and love living here. You'll find that as a teacher, I enjoy getting to know my students and figuring out ways that I can help them succeed.
In World Geography, we do a lot of discussing in class about different cultures around the world! You will learn about cultures, traditions, religions and types of government that are used in today's society. Yes, we look at maps, but I want my students to leave my class knowing more about how the world works and the people that live in it!
I tell my students all the time that I wish we could travel the world together and my hope is that by the time the semester is over, my students feel as though they have done that without ever leaving my classroom.