"Black Friday" - the day following Thanksgiving - generated over $1,000,000 in online sales per minute! That day through the following Monday, now referred to as "Cyber" Monday, captured 20% of all online holiday shopping. Forecasts suggest the average U.S. consumer will spend $1,007 this year on gifts, food, decorations, and Christmas cards during the November-December holiday season.
#GivingTuesday started in 2012 to encourage people to include generosity and charity with their holiday spending. Fueled by the growth of social media, an estimated 2.5 million people in 150 countries donated over $300,000,000 on #GivingTuesday - an average gift size of $120.
This year, #GivingTuesday on November 27 kicked off the traditional giving season. But many LuHi supporters didn't bother with waiting. At our annual auction on Friday night, November 16 a record 425 attendees filled the LuHi gymnasium for food, fellowship, and fun – and generously donated over $125,000! #GivingFriday?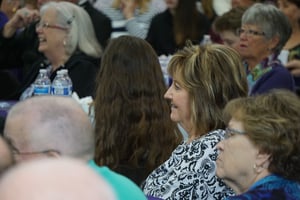 Wednesday, November 20 was Grandparents Day at LuHi, when we invited grandparents of current students to spend two hours at school with their grandchildren. A record 335 grandparents came. Many of them blessed the school with gifts. #GivingWednesday?
In early November the school mailed our annual end-of-year appeal to our community of supporters. Everyday the incoming mail includes generous responses to that appeal. #GivingEveryday?
If you're one of those who blessed Lutheran High School with a gift at the auction, at Grandparents Day, or in response to our year-end appeal – THANK YOU. If you are still considering how and where your holiday generosity can make an impact for something really significant, we hope you'll click on the Donate button and choose to #GiveToday or #GiveThisMonthOrNextMonth and help enable Lutheran High School to make a Greater Impact on more kids and more families for God's glory.
For extra inspiration check out the video above to see what we are doing to ensure the LuHi experience for our students is second to none.
John Rinks
Director of Donor Advising