Greater Impact – A Look Inside LuHi
Ever wondered why so many of our teachers graduated from a Concordia University? Our teachers are an important part of making a Greater Impact.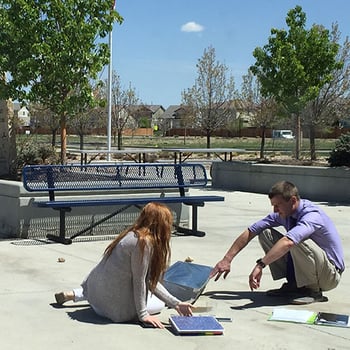 Recently, I had a conversation with a LuHi mom who asked me a question about our new teachers this year. She asked, "Why are the majority of your teachers from the same college?" She was referring to the fact that a lot of our teachers are graduates of a "Concordia." The Concordia University System has ten universities across the country from Irvine, California to Selma, Alabama.
Lutheran High School is operated by the Colorado Lutheran High School Association. The association is a group of LCMS (Lutheran Church Missouri Synod) Lutheran churches that joined together in 1952 with the purpose of forming a Lutheran high school. Many of those same churches still make up the CLHSA and support the high school close to $165,000 annually.
That same LCMS is the denomination behind the Concordia Universities. Each year, those Concordias produce teacher candidates that graduate with the intent of teaching in Lutheran elementary or high schools. Generally speaking, LuHi will look to hire outstanding qualified teachers that have had the theological training that the Concordias provide. Great advantage exists for our students when superb candidates are found in the "system:" consistency of belief in both Biblical interpretation and social issues, servant attitudes, instructional training, and a larger sense of mission in God's kingdom (to name a few).
I am, of course, conscious of the fact that a very small percentage of our student body (around 20%) are "Lutheran." It is interesting to note that original bylaws of the the CLHSA make it very clear that Lutheran High School was never intended to be a school "just for Lutherans." It was and remains a tool to reach the lost and connect them to Jesus and train up Christians from all denominational (or non-denominational) backgrounds. In that regard, we aren't afraid to hire non-Lutheran Christians when they are the best candidates for positions at LuHi. They are a huge part of what we bring to the table daily.
What does this mean for you? I believe strongly that this is an inherent strength of Lutheran High School. Students are encouraged to test their beliefs against the Word of God and Lutheran High School presents a consistency that makes that exploration more fruitful. I also praise God daily to be blessed with a staff that "gets" what a Lutheran High School is all about, and brings both skill and a servant attitude to work every day. My guess is that you have noticed that the teaching staff is what separates us from other schools. It's why I can confidently tell people that I would trust every person that works at Lutheran High School to give my own children advice. My guess is that most heads of schools cannot say that.
Greater Impact,
Dan Gehrke