Dear Lutheran High School Family,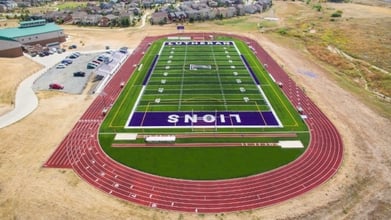 Recently we published a video praising our God and thanking our donors for making Phase 1 of Greater Impact a reality. We designed Phase 1 as it was to address a need. We desperately needed new turf, and the lights add both practice time and rental income for our programs.
I consider Phase 1 to be a resounding success. I don't mind saying that I completely underestimated the positive effect that Friday night games would have on our school culture. Lutheran High School is now the place to be on Friday nights in the Fall. God is indeed good.
As the Town of Parker and its metro area continue to grow at an amazing pace, I want to take you back to what we published on the LuHiFuture.com webpage almost two years ago:
The Parker Community has a pressing need for expanded private educational opportunities to serve its existing and expanding population. As the Parker area grows, the demand for a Christian high school that values highly relational community, excellence in academics/extra-curricular activities, and the bold proclamation of the Gospel of Jesus Christ grows with it.
Lutheran High School desires to build its enrollment to 600 students to meet this growing need and partner with the community to refine its product to best serve the needs of the families that desire Christian education. Greater Impact is the vision that will expand the reach of the mission of Lutheran High School – to nurture academic excellence and encourage growth in Christ. Greater Impact is the campaign that will rally all members of both the Lutheran High School community and the Parker community to see the vision to completion.
Nothing about this vision has changed. In fact, with the amazing growth in the Parker area, Phase 2 (additional classroom space) is quickly shifting from a future vision to a necessity.
At the same time that Douglas County schools are talking about high class sizes, spending cuts, lack of program initiatives, no new buildings, and stalled charter openings, we are preparing to boldly go for it. With consistent freshmen classes exceeding 150, we can potentially reach 575 students by the 2018-2019 school year.
Our current campus plus the modular classrooms (with some expanded parking) can accommodate that amount of students. Yet, we desire to engage our students at an even higher level and not have modular classrooms long-term. Present reality suggests that we need a building addition of 8-10 classrooms to be available by the start of the 2019-2020 school year if not sooner.
Currently, we are meeting with our top donors to gauge interest ("feasibility study" if you will) to donating to Phase 2. If a high level of support exists, we will map out the plan for funding Phase 2 and present it this summer.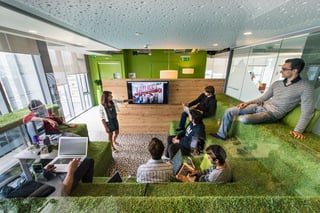 Several different architectural firms that specialize in engaging and creative learning space are submitting for this project right now. Our desire is for the current building and the expansion to provide classrooms that encourage collaboration and creativity, fosters excellent teaching, and becomes the type of space that high school students enjoy - think "Google workspaces."
Over the next few months, the prayer is that enrollment, architectural planning, capital campaign design, program development, and potential financing options all converge into a clear path that enables us to charge forward and have an even greater impact on our community.
So how can you help right now? We need two things:
Your prayers that our plans are God's plans for Lutheran High School.
Help point us toward people that we may not know about that would help us with a 3-year pledge as a part of the silent portion of Phase 2. John Rinks and I will talk to anyone at anytime. Please contact me at dan.gehrke@lhsparker.org
It is indeed an exciting time to be a part of Lutheran High School. Thank you for being a part of it as well.
Greater Impact,
Dan Gehrke
Executive Director, Lutheran High School