Greater Impact - A Look Inside, Pt 5: Talented Teachers
Where your student goes to high school matters. Who they spend 8 hours a day with matters. Lutheran High is making a greater impact in student's lives.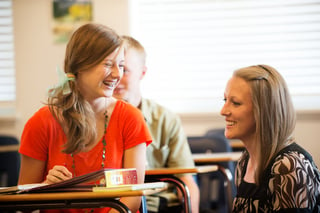 We are that generation of parents that wants the absolute best for our kids and will move mountains to make that happen. Colorado has so many options for high school, I'm sure the task at hand can seem daunting. You have to be asking yourself, "What is the best environment for my kid?" Whether you choose Lutheran High School as your home or not, I appreciate that you included us in your process of finding a high school.
Our Mission
Maybe it's helpful to know exactly what I believe Lutheran High School is all about.
Lutheran high school(s) have had a presence in the Denver metro area since 1955, and I've been a part of Lutheran High School education in the area for over 20 years. Simply put, I believe that Lutheran High School has always existed to serve the people of our community — namely high school students and their families, so God can impact and transform lives. We do that by gathering really talented Christian people in one place who provide a highly relational environment for students to learn. And we are passionate about Christian high school education.
The people I work with at Lutheran High get up in the morning, come to their second home, and strive daily to deliver on our mission statement: nurturing academic excellence and encouraging growth in Christ. As an organization, we hire people that can deliver on our three core values: people who are Christian, highly relational, and talented. I know it seems pretty simple, but a grand strategy is in play.
We believe those three things are the "secret sauce" for creating an environment where students don't just survive high school, but THRIVE in high school.
Our Core Values
If I can be so bold - I think the preceding statement is exactly what you want for your kids:
You want a highly relational environment for your teenager. They cannot, despite their best efforts at times, fly under the radar at Lutheran High School. We have such a huge advantage over the other schools in Douglas County simply because our student body size is more conducive for "knowing kids." Lutheran High School believes in the power of community and we are definitely a family. And you know what the best part is? Research shows that "relationship with the teacher" is the most critical factor in student success.
You want the people who guide and direct the worldview of your child to mirror the values that you have already instilled in them. Why on earth would you put them in an environment that works against, aggressively or subtly, the worldview that you teach them at home? I tell parents all the time that I would trust every person that works at Lutheran High School to give my own children advice. How many heads of school can say that and mean it? I'm guessing not too many. And why do I trust them? Because I know where they are coming from — from a worldview centered on Christianity and the truths of the Bible. We view the students that walk our hallways as unique children of God that have been blessed with skills and talents. I am amazed daily at what Lutheran High School students accomplish with the right structure around them to see them thrive.
You want talented people guiding them along the way. I think the majority of parents know good teaching when they see it. Whether it was your student's piano teacher, club coach, or favorite middle school teacher — the real differentiator is simply the ability to teach well! The people who work at Lutheran High School are evaluated daily with one simple question: "Would I pay money to have this person teaching/coaching my kid?"
Look, every high school attempts to market themselves as a great school in the same fashion: multiple course offerings, AP and Honors courses, high ACT average, percentage of college-bound students, wonderful extra-curricular activities, accreditation, etc. Lutheran High School is no different in that regard. We don't take a back seat to anyone in those areas. We use those same tools to show the community that the education received at Lutheran High School is top-notch.
But in moments of full candor, I will tell parents that at the end of the day those aren't the things that really matter. What really matters is "who" you chose to allow full access to your children for 8-10 hours a day for four years. That's a lot of time — they will be influenced. I think about my own children and I want them surrounded by talented Christian people who will engage them, guide them, and challenge them — teachers that are masters of their craft and bring it every day. I want to wake up every day and know that the environment that I have chosen for my kids is a family, where my kids' strengths and weakness are known. I want them in a place where if they are struggling people will notice, and truth will be spoken to them in love. And, I want them around people who will love them and see them as I see them: a unique Child of God that will leave high school and change the world for Jesus Christ.
If you hadn't guessed it yet, I think you should enroll your son or daughter at Lutheran High School.
Greater Impact,
Dan Gehrke
Executive Director, Lutheran High School