Diverse is a word that would accurately describe the fifteen young artists that make up this year's LuHi Art Academy. Art Academy. The six juniors and nine seniors are studying architecture, special effects makeup, photography, graphic design, film, and a variety of fine art.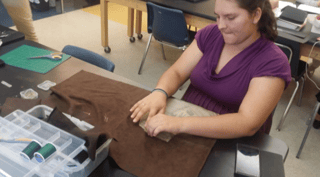 The Art Academy is a two block, individualized course for students who love the creative process and are considering or have decided to pursue a career in art. Each Art Academy student spends about 3 hours a day creating art.
"With the individualized approach of the Art Academy, students are allowed to specialize in certain areas of their interest. For myself, architecture is my passion. So, everything I do and will accomplish is aimed toward the end goal of pursuing architecture in college and beyond," says Daniel Ness, a senior Art Academy student.
Preparing Students for College
The Academy is for students serious about working hard to expand their creativity and extend their knowledge about art while building a portfolio. Having a strong portfolio can bring a student's creative style to life. Department Heads at colleges use student portfolios and sketchbooks to determine if a student is a fit for their program and worthy of scholarship money.
LuHi's Art Academy is focused on helping students creativity shine through in both their sketchbooks and portfolios. Students get time to meet with art professors to learn what to include and how to better their portfolio based on what colleges look for. Students also develop sketchbook habits and time management skills which are crucial for success in college art programs.
Student Work
These students tackled their first project of the semester in very different and creative ways. The theme for the project was The Wizard of Oz, in reference to the Drama Department's 2017 musical production.
Even though the theme was shared, each student chose to create their feature in their chosen artistic discipline. Abi Budnack, who is studying Photography, created the movie poster with a more modern casual take on the ruby red slippers, whereas Darcen McCampbel, a film student, decided to make an edgy Dorothy and Toto.
Darcen McCampbel is excited about the possibilities of the Art Academy because, "I get to work on art projects in areas that I want to explore in college. It's definitely not your average 'pass without trying' art class."
A Special Effects artist, Chloe Hollenbeck decided to do make-up and costumes for a gender reversed Wizard of Oz. So Theodore, instead of Dorothy, was her main Character, with the lion, tin-girl and scarecrow all being female.
Other projects included designing the witch's castle, The Oz skyline, and a very cool Crystal Forest made of laboratory made crystals. Yoon Ji Choi made a wonderful layered diorama as her project. The creative juices were flowing give a strong start to the year.
Art Experiences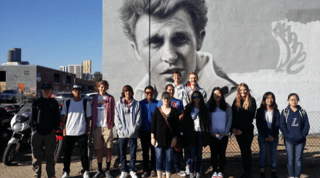 The Art Academy students also had a fun field trip to the RiNo Art District, North of Coors Field, where the 7th Annual Colorado Crush Mural Competition was in full swing. This trip opened students eyes to over to the endless possibilities of street art murals. They saw over 70 local, national, and internationally known artists - all with different artistic styles - and 45 different painted murals.
Students were inspired to begin their second projects, which are all very individualized. LuHi students can choose to participate in other local art events such as the Denver Chalk Art Festival and the Colorado Scholastic Art Awards Showcase. It promises to be a fantastic year with these creative and talented students.