LuHi parents have decked the hallways with boughs and holly, teachers are whistling tunes of lore, and students have visions of sugar plums (final tests) dancing in their heads. It's beginning to look a lot like Christmas at LuHi! Before we disperse for break on December 21st, there are many festive ways we get to celebrate the birth of our Savior with our school family.
A LuHi Christmas
LuHi's annual Christmas concert has become a cherished community tradition. This year we will remember the promise of the prophet Zechariah: "Behold, your Lord Comes to You" on Thursday, December 6th and Friday, December 7th at 7:00 pm at Parker Bible Church, and we hope you can join us! No tickets or RSVPs needed.
LuHi's musical ensembles will perform the beautiful Christmas pieces they have spent many hours rehearsing and fine tuning. We'll hear selections performed by the Men's Choir, Bel Canto, Wind Ensemble, BluHi Jazz and the Jubilate Choir. There will also be an opportunity for the audience to sing along with favorite carols and a candlelit "Silent Night."
Weaved throughout the evening will be Scripture readings and meditations to help you focus on the Incarnation of Christ. The concert is free and open to the public, so please invite friends and family who need to hear the Christmas story! God's gift of music through our students underscores the message in a powerful way.
Advent by Candlelight
On Monday, December 10th at 6:00 pm, this new tradition continues at LuHi for moms and daughters to gather together and prepare their hearts for the coming Savior. Female staff members host a table, decorating them in their unique styles and making delicious desserts for the guests. LuHi male staff members serve tea, coffee and water. The elegant, reflective evening includes devotional time, prayer, music, fellowship, and dessert, and has become a favorite December event at LuHi.
Christmas Spirit Week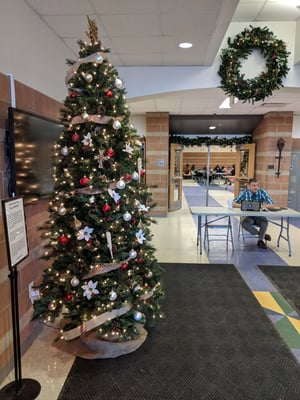 To alleviate the impending stress of finals week and to celebrate Christmas with friends before break, Student Council leads Christmas Spirit Week before finals. This year it is scheduled for December 10th-14th and includes all sorts of shenanigans and fun, including a hot cocoa station and the staff serenading the students with Christmas carols as they walk into school.
Students may be found raiding thrift stores and their parents' closets, because a holiday outfit theme is assigned for each day of the week. This is taken very seriously, since a prize is given for the best dressed freshman, sophomore, junior, senior, and staff member each day. This year's themes will not disappoint:
Monday: Family Photo Day
Tuesday: Christmas Spirit Day to the MAX
Wednesday: Hawaiian Christmas
Thursday: Christmas Eve
Friday: Ugly Christmas Sweater Day
We hope you can join us for a LuHi Christmas, and if you're a mom or daughter, you'll sign up for Advent by Candlelight. And if you find yourself near campus before finals, you won't want to miss a glance down our halls to see the craziness of Spirit Week in action.
But most importantly, our prayer for you this Christmas season is that you find joy in the coming Savior, the hope of the world in one tiny baby King.
"Rejoice greatly, O daughter of Zion! Shout aloud, O daughter of Jerusalem! Behold, your king is coming to you; righteous and having salvation is he, humble and mounted on a donkey, on a colt, the foal of a donkey." Zechariah 9:9