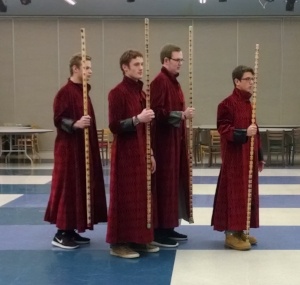 If you haven't heard, Lutheran High will be presenting the musical, "The Wizard of Oz", March 10-12, at the PACE Center in downtown Parker. While the story line is fairly well known by the general public, producing a stage version of the musical brings a whole set of challenges that may not be immediately realized when thinking about the tale of Dorothy and her journey back to Kansas. Think tornadoes, flying witches, fireballs, a wizard, flying houses, and other magic that really make "The Wizard of Oz" come to life.
So how does all this happen? How is the LuHi Theater Department going to tackle a show of this magnitude? Read on and we'll review a little of the magic and a little of what goes into producing something like this - but we won't reveal all, for that, you'll have to come to the show!
Getting Started
Before getting into specifics, think through what all goes into producing a musical. A musical is unique in that it pulls together every major part of the arts into one production, both performing and fine arts.
There is acting, singing, instrumental music, dance, graphic design, painting, set design, costuming, makeup, even video production. To pull off a musical, a large committed team of production staff and volunteers need to come together to head up the large number of people involved in the show.
At this point in our production, there are already eleven production team members heading up the different parts of the production from the costumes to the makeup and even the orchestra and the graphic design. Each production team head then has volunteers under them to help accomplish what needs to be done. As you can see, the army of people needed for a musical is impressive.
What does the production team look like?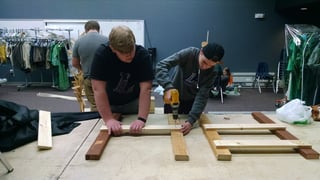 The production team will not only be overseeing the volunteers on their team but overseeing the students involved in the production. When it's all said and done, close to 100 students will be involved in Wizard.
Wizard features a cast of over 50 high school students, approximately 25 middle and elementary students, 10 "techies", several high school orchestra students, and others helping with costumes, choreography, makeup, and even set design.
With the addition of the Art Academy, architecture students have helped with set piece design, photography and graphic design students have been involved with ideas for different design elements for the show, and special effects makeup students will be able to assist with makeup.
So what about that flying house?
How is Lutheran High going to make a house fly? How is it that a scarecrow is going to catch on fire? What about the wicked witch? What is her entrance going to look like? While we can't reveal all of this to you, we will give you a little sneak peak of some of the elements.
It is important though, to understand first, that not everything that can be accomplished in a movie can be accomplished on stage. They are two different types of entertainment. What can be done in a studio cannot always be done live but that is part of the magic of live theater.
Things that are seen on screen can be completely reimagined for the stage and that is part of what LuHi theater is trying to accomplish. Another thing to know is that the resources that a Broadway production that comes through the Buell Theater are different. One of the fun parts of high school and community theater is figuring out a way to capture the magic of Broadway even when you don't have the resources.
So, onto some of the special effects. One element that LuHi is excited to use is called a Geyser Cryo/Pyro Simulator. A Geyser Cryo/Pyro Simulator is a special effects machine that produces both smoke and light.
When it is used, it can create several different effects from colored smoke, to a fiery look, to a sudden burst of energy. These types of simulators are not only used in theater productions but also in concerts and other entertainment venues. Want to see what they look like? Take a look at a video of one in use. We'll let you guess some the spots where these will be used throughout the production.
What about flying people?
One very exciting part of the Wizard of Oz is what we plan to do with Glinda, with the flying monkeys, and with some of the other characters in Oz.
Through the generosity of some supporters of the arts, Lutheran High will be able to fly some of the characters on stage. In order to do this, the PACE Center is partnering with a company called Flying by Foy (the same company that flew Lady GaGa at the Super Bowl this year) to bring a whole new level of magic to the show.
Flying by Foy has been around for years and is used by Broadway productions, television shows, and even pop music stars on their concert tours. We can't tell you all of the details but the visual effect benefits of using this company will be something you'll have to see for yourself.
Why we love PACE Center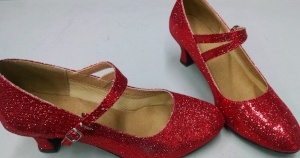 If you've been to a show at the PACE Center before, you know what a fabulous facility it is. This will be Lutheran High's second year at PACE and once again, we are thrilled. The amount that can be accomplished at a theater designed for large scale productions as opposed to a converted lunch room (where musicals used to be held) is incomparable.
With a fly system, a pit, a full size stage, dressing rooms, green rooms, an outstanding staff of theater professionals, professional ticketing, and so much more, everyone involved in the production gets to have more opportunities thanks to PACE.
In addition to these benefits, Lutheran High theater is now more visible within the community. We see our productions as something not only for the LuHi community but for the Parker community as a whole. We want to offer the magic of Wizard of Oz to kids and families throughout the community. PACE Center helps us accomplish that goal.
We detailed some more of the benefits of PACE when we first moved there last year. You can read more about that here.
Get your tickets!
Tickets are going fast! We have had record ticket sales to this point and we don't want you to miss out on a phenomenal production. Wizard of Oz opens March 10th and finishes up on March 12th with four shows total. Tickets are available at the parkerarts.org website. We hope to see you there!