Laugh Around the World in 80 Days!
The Theatre Department's fall production of Around the World in 80 Days is almost here! Learn about the show and get your tickets today!
This year's fall play is a slapstick comedy with some interesting twists! Rehearsals have already begun and performances will be held Oct 1-3 at 2pm & 7:30pm at the Schoolhouse Theatre in downtown Parker. Purchase your tickets today at parkerarts.org.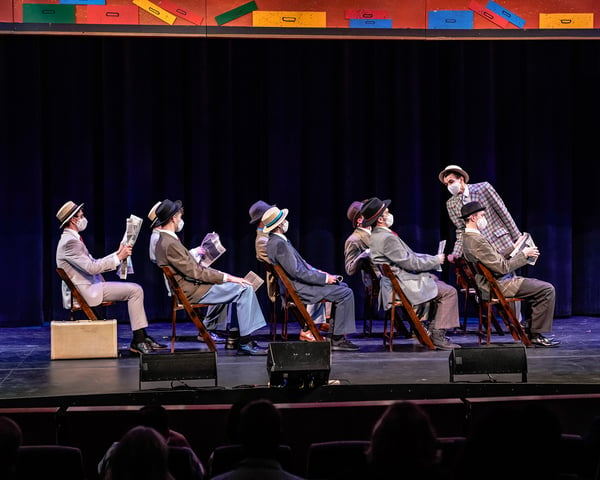 We sat down with the Head of the Theatre Department and Director Jillian Lietzau to get the inside scoop on this hilarious play.
Can you tell us what piqued your interest in this show?
What drew me to Around the World in 80 Days was the unique adaptation of this classic story. I prefer shows that are a bit outside of the box and can be performed in different ways. Don't get me wrong, traditional plays are great too, but there is just something about doing a style of show nobody has really seen before that takes the entire theatrical experience to a different level. I love to challenge my students while keeping our shows entertaining for our audience. This show is the best of both worlds. It brings adventure, spontaneity, creativity and fun for the performers and audience alike.
The play is typically cast with five actors playing thirty-nine roles. Is that how you will be casting it at LuHi? Can you tell us about your expectations and plans for this format?
LuHi's theatre program is growing quickly; we have so many talented students. In this production, the cast has been expanded to eight performers to allow for more students to be involved. Even with eight actors splitting thirty-nine roles it is still quite a challenge, but that's also half the fun.
This is a fast-paced comedy with many of the actors changing characters and costumes every few minutes to introduce the audience to the next exotic place on the map. The way this adaptation is written allows for the students to get creative and stretch their acting abilities. The first several rehearsals we will spend simply workshopping the script. Essentially this means the actors and I will look at the different scenes and characters and just play. I'm a firm believer in allowing students to be part of the creative process. There is great value in allowing them to bring their own ideas to the table rather than the director dictating every move a character makes. This is how they grow and become better at their craft. Allowing them the freedom to be creative gives them more confidence and causes them to be more invested in the process and the show as a whole. It's really great to see. We try different accents and experiment with body language and facial expressions to see what works best for each of the thirty-nine characters. I also like to see what unique hidden talents and ideas the actors can bring to the rehearsal process and incorporate into the show.
A lot of versatility is needed to create thirty-nine very different and distinctive characters and it's going to take all of us working collaboratively to bring them together.
What are your plans for the set design? Who builds your sets?
The nature of this show requires the scenes to change quickly and often. Instead of a large set, we will be using a lot of representational pieces that can be moved and changed into various objects and locations. Here's where we take creativity to a different level. Objects that make up a train in one scene will need to seamlessly morph into a ship in the next. An elephant will even make an appearance on our stage.
How many students and faculty work behind the scenes in a typical production to make a great show?
Our shows wouldn't happen without the amazing staff and volunteers working behind the scenes. They really are the ones who make the shows happen, arranging costumes, sets, marketing, logistics and everything in between. The production staff for fall and spring shows require roughly six to eight adults and ten to twelve students working behind the scenes. The musicals' production staff is closer to twenty adults and fifteen students.
Are there any other performances planned for this school year?
Yes! We have our Theatre Showcase on Nov 5-6 at LuHi. This show is our annual fundraiser and consists of four student-directed one-act plays. This show gives our students a chance to showcase what they have learned and to pass their knowledge on to the next generation.
The much anticipated musical this year is Annie to be performed March 25-27 & April 1-3 at the Pace Center. Our spring show title is still TBD but will be performed May 5-7 at the Schoolhouse Theatre.
Get your tickets!
Thanks for taking us behind the scenes, Ms. Lietzau! The theater productions at LuHi have proven to be spectacular for audiences and enriching for actors. This year's fall play is sure to be a treat. Buy your tickets today at parkerarts.org!