Written by seniors Beth Vanderhyde and Bethany Schilling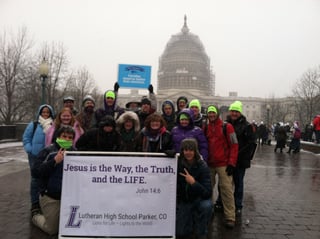 Last Wednesday, Lions for Life had the privilege of taking 18 individuals to Washington D.C. for the annual March for Life. Led by Lutheran High School teacher, Daniel Vanderhyde, the group consisted of returning LFL members and new faces alike, as well as parent and teacher chaperones. The focus of the trip was to take a stand for life and be a voice for the voiceless. LuHi students came alongside thousands of others to march from the Washington Monument to the Supreme Court building and peacefully protest abortion.
Senior Bethany Schilling says, "The theme for the march this year had to do with pro-life and pro-women going hand in hand. We want people to know that yes, we're against abortion, but there is so much more to it than that! It's a sensitive issue, but ours is a message of love, not condemnation. Love for the woman, for the man, and for the family. Love for life- and that means everyone, regardless of age."
While there were still roughly 200,000 supporters present, numbers decreased from last year's march due to a blizzard bringing two feet of snow to D.C. The weather not only shut down the subways, it gave the Lions an extra day in D.C. after their flight was cancelled! Mr. Vanderhyde shared his appreciation for all the people who helped turn obstacles into blessings: "So many people helped out in really wonderful ways! Mr. Stelling, Mr. Black, Ms. Quinlan, and Mr. Clearwater had excellent advice and did a lot of the work rescheduling flights and working out a good hotel solution. The Crowne Plaza staff, who were stranded in the hotel with us, were incredibly accommodating. Our thirteen students adapted quickly to changes in schedule and never complained. They were absolute rock stars. We met up with another Lutheran High School from St. Charles, MO, and they helped put together a small conference to replace the one we were supposed to reach using the metro rail system. We had folks back home praying for us and even offering to help cover the cost of food and lodging for the extra day. The rest of the LuHi staff pitched in to cover for us teachers as we missed an extra day of school. God worked through countless people and took great care of us through the storm."
In addition to hearing pro-life speakers and learning more about the cause, everyone who attended got to grow in fellowship with one another. "It's amazing being able to support a cause and have others support you for supporting it. You're around all kinds of different people but always feel like you belong," says Harrison Tomko, a senior and returning marcher. His friend Noah Bricker, who came along for the first time, writes, "I was prolife before the trip began, but after the experience I understand why we march even more. The bonding between all of us during the trip was probably my favorite part, and being snowed in made it much more memorable."
Students partook in devotions with leaders like Mr. Stelling and Mr. Black, and everyone got to share insight about life, faith, and much more. Another neat opportunity was the ability to visit the national monuments, museums, and sights- where they learned about history, space, and everything in between. "Visiting the monuments and museums in D.C. is always a highlight of the trip for me. I especially enjoy connecting sightseeing with our reason for going by visiting Arlington Cemetery and the Holocaust Museum" says Beth Vanderhyde.
Despite the change in plans due to the weather, this year's March for Life was an amazing experience filled with many learning opportunities and chances to grow closer as a group. What was a potential headache of rescheduling flights and making additional hotel reservations has now become a Blizzard of Blessings.