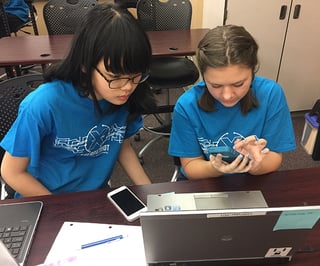 When LuHi Sophomore Beth Chwialkowski heard her dad talk about his experience doing a trial run competition for CyberPatriot through his work, she was immediately interested. Knowing that Lutheran High School is always open to students starting new clubs, she began to pursue forming a Cyber Security Club (CSC) that would participate in national CyberPatriot competitions.
The US CyberPatriot program is organized by the Air Force Association and sponsored by Northrup Grumman. "CyberPatriot the National Youth Cyber Education Program created by the Air Force Association (AFA) to inspire K-12 students toward careers in cyber security or other science, technology, engineering, and mathematics (STEM) disciplines critical to our nation's future." – USCyberPatriot.org
"[CyberPatriot] seemed like a real door opener," Beth explained. Her dad and LuHi web design teacher, Katie Eloe, volunteered to be advisors for the team. Mr Chwialkowski is part of the Civil Air Patrol and Mrs Eloe has a background in software development.
"I think it's a great program for the kids because they are learning actual career skills. There was an article on 9News this summer about open cyber security jobs in Colorado - like well over 9,000 of them. So, there is a need for these skills and the CyberPatriot program is a space where students can explore their interests in the field before going into college.
Colleges are just starting to offer cyber security programs so participation in [the club and competitions] look really good on a resume. Plus, winning teams at the national competition receive scholarships for every student on the team. Last year, each student on the winning team got a $2,000 scholarship," says club advisor Katie Eloe.
"It's also important because right now, we as a country are more reactive than proactive when it comes to cyber security. Instead of reacting to hackers, we need to stay ahead of them - so there's a big need. This club teaches life skills, too. Things like how to have secure accounts personally and how to be careful about what information you share online. So there's an individual aspect on how to secure your own information too and it's just as important.
Because there are some basic life skills, this club can be interesting to anyone, I think. But, the competitions are intense. It's not a playtime club. It takes real dedication and persistence. The most important thing this club teaches is how to research and problem solve."
"I've learned a ton about being safe on the internet, how to defend your information, and how to fix problems when they come up," says Beth Chwialkowski.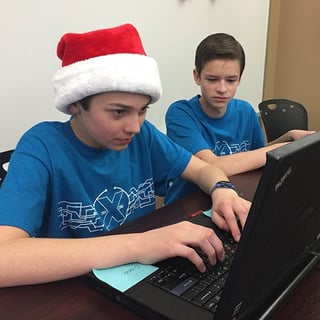 Lutheran High School Cyber Security Club participates in the high school division of CyberPatriot and competes against more than 2,000 other high schools during competitions. Competitions are held monthly from November through January. Competitions consist of a six hour window for students to answer a set of forensic questions and secure the operating systems to the best of their ability. Students are given access to three different OSs and points are given for every vulnerability detected and every question answered correctly. Points are taken away for any security detracted from the Systems.
The LuHi team keeps their scoreboard up the entire competition to monitor how they are doing. This can add a level of intensity to the day.
"The competitions are intense. It takes 6 hours to work through all vulnerabilities. The students are completely on their own - all I do is set up the operating systems, make sure the network is working, and that kind of stuff before the competition starts. Then I just watch and it's completely up to them to do the problem solving," Mrs Eloe says.
"My favorite part so far have been the competitions because you get to spend a lot of time with other people who think similarly to you," says freshman team member Van Holmstrom.
There are over 5,500 CyberPatriot teams across the country in three different divisions. Within that, there are three different categories: the bottom 30%, the middle 40%, and the top 30%. All competitions are done virtually until Nationals and there are 3 qualifying rounds: the first in November, the second in December, and then the State round in January. If teams win at State, they can advance to the National Competition in Baltimore.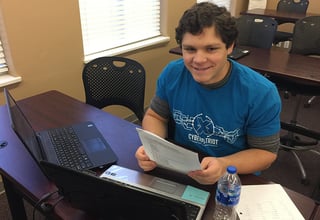 LuHi's Cyber Security Team practices once a week for about an hour and a half to prepare for the competitions. During practice they work on solving practice problems, finding vulnerabilities, and learning how to safeguard their own information. Practices start in August and run through the full school year.
This year, the team is looking into attending a Cyberspace Symposium in March in Colorado Springs. As the team continues to grow and develop, students will play a large role in teaching newcomers to the club skills they've learned so far. Information is then organically taught and passed down from year to year.
LuHi's CSC also welcomes guest speakers with backgrounds in cyber security, networking, or system administration careers. Guest speakers are a great way for the students to network while learning more about what a career in the field entails. If you know anyone in a cybersecurity field who would be interested in speaking to our team, please contact Katie Eloe at katie.eloe@lhsparker.org.