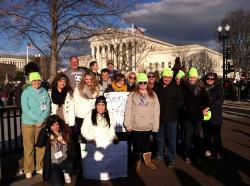 Last week, a group of students and LuHi teachers embarked on a trip to Washington, D.C., for the annual March For Life. Several of these students are a part of Lions For Life, a group formed a few years ago that talks about the issue of abortion and works to end it and advocate for the unborn children.
The March For Life is an annual pro-life rally that protests abortion. It always takes place on (or around) the anniversary of the United States Supreme Court's decision legalizing abortion in the case of Roe. vs. Wade. It is a peaceful demonstration to share the truth concerning the greatest human rights violation of our time.
A member of the Lutheran High community saw an observation about the March for Life as a whole on Facebook. This was a post from a citizen of Washington D.C.
"The March for Life was two days ago. The city was exploding with people carrying signs for the March. I was not the only one who noticed that the people I saw were mostly high school and young adults carrying signs saying, "We are the Pro Life generation." EVERYTHING was orderly! People were friendly and pleasant toward each other. The Metro ride home was crowded but delightful. What a contrast to the very disorderly demonstrating we have been hearing about constantly on the news, lately. Oh, and, By the way, while it was a crowd that filled and overflowed the Washington Mall, I still haven't heard any mention of it on the news!" -- written by Betsy Sprague
Not only did the students get to advocate, even if just for a day, for unborn children, but they protest because they know God's Word concerning the topic. Psalm 139:13-16 says, "For you created my inmost being; you knit me together in my mother's womb. I praise you because I am fearfully and wonderfully made; your works are wonderful, I know that full well. My frame was not hidden from you when I was made in the secret place, when I was woven together in the depths of the earth. Your eyes saw my unformed body; all the days ordained for me were written in your book before one of them came to be."
This group of students and faculty is passionate about advocating for children who cannot speak for themselves. Lutheran High is blessed to have students and faculty who are willing to stand up for what they believe.
Written by Susannah Black - Class of 2015