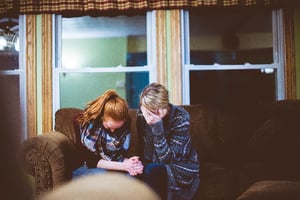 More than likely you know a young person who struggles with mental illness. Today, mental health problems are diagnosed more frequently than heart disease, lung disease, and cancer combined. More than twenty percent of youth ages 12-25 are now experiencing or will experience a serious mental disorder.
For this reason, LuHi is hosting two Mental Health First Aid trainings on August 5th and 6th for our teachers and staff members. The training will be led by instructor Kay Siebert, the Director of Ministries at Christ Cares Ministries in Phoenix, AZ. "Mental illness doesn't discriminate," says Kay. "It is in all of our families and in all of our relationships. Talking about it breaks down the barriers and brings out the truth."
What is Mental Illness?
The World Health Organization defines mental health as "a state of well-being in which the individual realizes their own abilities, can cope with the normal stresses of life, can work productively and fruitfully, and is able to make a contribution to their community."
Adolescents are at particular risk for mental illness because of their emotional development and vulnerability. They may endure a range of symptoms without recognizing them as signs of depression, anxiety, psychosis, eating disorders, substance abuse or behavioral disorders.
Even though professionals are more knowledgeable in assessing and treating psychological struggles, often the hurdle for a youth is getting through the doorway. A social stigma still comes with mental illness, and it can be difficult for a young person to name or explain their feelings themselves, let alone to someone else. In addition, it can be a financial hardship or family strain. They need trusted adults to turn to.
The Gift of Empathy
Our LuHi staff will be trained to take on this vital role. They will receive thorough information about what mental illness is in adolescents and its risk factors, protective factors, and prevention. Although the training is not meant to create therapists, it is meant to train teachers how to assess and respond to young people's crisis and non-crisis situations, knowing when and how to ask, "Are you okay?" It also teaches them how to distinguish normal adolescent behavior from mental health disorders.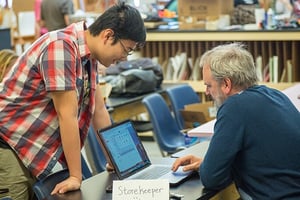 As a result, LuHi students will reap the benefits of teachers who have open hearts and open minds in the classroom. In school, often the first instinct for teachers is to address the behavior rather than the person. The First Aid training turns that philosophy around: first address the person, then address the behavior. With this atmosphere of trust, youth are more likely to be honest about their struggles. Our students will be given the gift of empathy; caring adults who are aware of the challenges of mental illness can offer coping tools and show young people how to get help.
"Help to me was reassuring me that I was safe--was listening to me in a way that didn't make me feel bad or inadequate, but, most importantly, when I did have the courage to ask for help, was someone responding in a way that was helpful, not hurtful," says Brianne Masselli of THRIVE System of Care, who struggled with a mental illness as a teenager.
If mental illness feels overwhelming, it's because it is difficult to understand. But as first responders, our LuHi teachers will be equipped to be a safe place for a young person to be seen, to be heard and to be helped. Then our students will have a greater chance at living the healthy life God purposed for them as one of his valued children.
Information for this article was taken from Kay Siebert of Christ Cares Ministries and from Mental Health First Aid USA: for Adults Assisting Young People manual. Washington D.C: National Council for Behavioral Health, 2016.