At Lutheran High School, over 90% of our student body gets involved in various extracurricular activities. We place a heavy emphasis on having a relational atmosphere. As a community of believers, it's great to see such a high level of involvement from our students.
There's a variety of outlets for students to plug in. Athletics and Theatre are among the most popular, but clubs are also an excellent way to get involved.
**Update: New clubs are frequently popping up at Lutheran High. Since this post was written, we've also added a Photography Club, Writing Club, Game Creation Club, and Korean Culture Club. Students are encouraged to start clubs they are interested in.**
Our list of clubs is always growing and changing with the interests of our students. Many of the clubs we offer started because a group of students expressed an interest in creating them. Encouraging student passions is vital to our culture. Below, find a list of our current clubs.
Robotics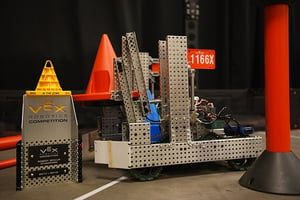 Robotics is one of our most popular clubs on campus. It serves as an opportunity for students to learn, compete, express creativity, and develop a sense of camaraderie with their peers.
The team starts by thinking through the schematics and technical details of building a robot. Then, based on the specifications from Vex, the team then gets busy making the actual robot. After the build is completed, the team travels to a competition.
These all-day affairs include inspections of both the robot's physical build condition and it's code, which must be up to specific standards. Once the inspections are passed, it's competition time! Each tournament has multiple qualification rounds, followed by elimination rounds.
For an inside look at the specifics of our Robotics Team, check out this post.
Student Council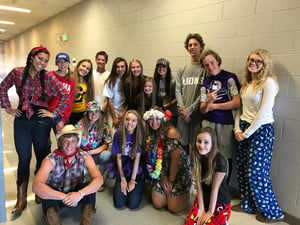 Student Council plays an essential role at LuHi. Not only does it serve as a liaison between the students and the administration, but it is the driving force behind student activities. StuCo plans spirit weeks like Homecoming and Sadies Week. They help welcome new students to the school by planning the annual Welcome Week. Student Council unites our student body and provides opportunities for them to show their school pride.
Students look forward to Student Council-planned events to help break up the monotony of the average school year. Staff versus student volleyball, dodgeball, and basketball games are a favorite tradition. Games of Adventure Quest get the whole student body involved. Hosting the Annual Lip Sync and the Annual Talent Show gives students in every grade a place to shine.
Helping students feel the benefit of what it means to be part of the LuHi family is a main goal of StuCo.
Lions for Life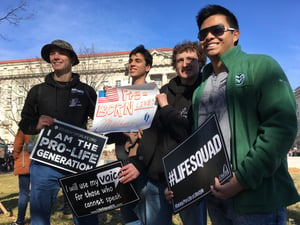 Lions for Life (LFL) is a group on campus that has made it their goal to educate others about life issues of all kinds. LFL Advisor, Mr. Vanderhyde, had this to say about the group:
"The Life-Affirming Movement has so many aspects to it - human rights, government, faith, politics, family, science and medicine, and a whole host of other perspectives. All of us need to be educated and prepared to defend life because there are a lot of different views and opinions out there. This is a heavy topic that has huge consequences for those who have to make tough decisions. We want to be able to love and serve everyone - especially those we disagree with - as we affirm the value of every human life."
This group does an excellent job of exploring how to be a voice of positivity and support to those going through these issues. The biggest event for LFL is the Annual March for Life in Washington D.C. For more info on what that event entails and how LFL has participated in the past, read our blog post.
Ping Pong
In 2015, a student came to the LuHi with the desire to start a club where students could come to relax, socialize, and get a little competitive. The Ping Pong Club was born. The atmosphere is casual - meetings fluctuate in attendance, and anyone is welcome. Students come with a wide range of ping pong experience, so games span from slow-paced to intense. This group is all about fellowship and fun!
Cyber Security
The US CyberPatriot program is organized by the Air Force Association. From the US CyberPatriot website:
"CyberPatriot the National Youth Cyber Education Program created by the Air Force Association (AFA) to inspire K-12 students toward careers in cybersecurity or other science, technology, engineering, and mathematics (STEM) disciplines critical to our nation's future."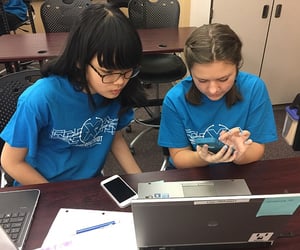 This LuHi club participates in the high school division and competes against more than 2,000 other high schools during competitions. Competitions are held monthly from November through January. They consist of a six-hour window to answer a set of forensic questions and secure the operating systems. Students have access to three different OSs. Points are awarded for every vulnerability detected, and every question answered correctly. Points are subtracted for any security detracted from the Systems.
Club advisor Katie Eloe says, "I think it's a great program for the kids because they are learning actual career skills. There was an article on 9News this summer about open cybersecurity jobs in Colorado - like well over 9,000 of them. So, there is a need for these skills and the CyberPatriot program is a space where students can explore their interests in the field before going to college."
National Honor Society
National Honor Society, or NHS, is a staple at Lutheran High. It is one of the few clubs where members have to qualify to participate.
After the first semester, sophomores and juniors begin the admissions process. Students are admitted based on:
their GPA (it must be a 3.75 or higher)
their involvement in the school and community
their ability to demonstrate excellence in Leadership, Scholarship, Service, and Character.
Here's what NHS Advisor Diane Hollenbeck had to say about this exceptional group during this year's induction ceremony:
"The individuals whom we recognize today have worked diligently to broaden the influence of LuHi's chapter of NHS. They are not simply a group of smart individuals. Certainly, every student is a conscientious student, but each is also heavily involved in other activities. We have athletes, actors, and musicians who have embraced the concept of "student-leader." They desire to perpetuate a culture of service, inspired by Christ Jesus, our risen Savior."
Equestrian
Equestrian is one of the newer clubs at LuHi, but it has quickly found a home with many students and staff! One of the best things about this group is that there is freedom for students to choose the capacity of their involvement.
Some students took weekly lessons and participated in competitions. Others preferred to become involved with horse-related service projects throughout the year. Equestrian Team supervisor, Kaylee Stith said, "Things look different from year to year, but it's a really cool way to get exercise, hang out with friends, improve your skill set, and be around horses. I actually took lessons with the club periodically, which was super fun!"
Interact
Interact is a national club sponsored by Rotary with the focus on serving the community and building lifelong leaders. From the Rotary website, the benefits of Interact include connecting with leaders in the community and around the world to:
Take action to make a difference in your school and community
Discover new cultures and promote international understanding
Become a leader in your school and community

Have fun and make new friends from around the world
At LuHi, the Interact club works with LuHi Serves to create service opportunities around Denver for the student body.
Yearbook
Being a member of Yearbook club may seem reasonably straight-forward. But, anyone who knows Mr. Zoeller would likely describe him as hilarious, spontaneous, and creative. So, it's safe to say that any club he oversees is sure to be a good time as well. Yearbook students are responsible for various tasks such as: - taking pictures at LuHi events - organizing yearbook layout - designing the cover and theme - and ordering the final product that students will cherish for years to come.
Student Ambassadors
This group of select students acts as a welcome committee of LuHi for prospective students. Student Ambassadors responsibilities include:
hosting shadow students
attending middle school open houses
helping at LuHi Preview Days, Open Houses, and other admissions events
promoting the school in different ways.
These students embody what it means to be a LuHi Lion. They love to share their school spirit with younger students interested in joining the LuHi family.
Clubs are added to the list each year as student interests change and grow. Students are always encouraged to pursue and share their passions. Extra-curricular activities are a favorite way to plug into the LuHi family.