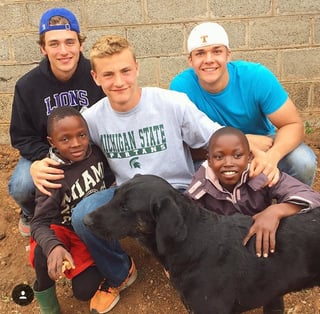 This summer, the work of Lutheran High School students expanded much beyond the walls of our school building and the community of Parker. Just days following graduation, a group of LuHi students and some others from various churches and schools left with leaders Pastor Tim Spykstra and Mr. Steve Budnack for Lesotho, Africa.
Lesotho is located in South Africa, almost seven hours south of Johannesburg.The country is landlocked and surrounded by mountain ranges, which the mission group felt first hand with winter temperatures despite being early June. After long flights and layovers in London, the group served in Lesotho for nearly two weeks.
The students and adult leaders had projects to accomplish as soon as they arrived. Mr. Budnack, whose daughters were also a few of those present on the trip, described that they often tried to keep a schedule for their days, even when materials and people weren't ready. Their work included time in Beautiful Gate Orphanage, a preschool, a medical clinic, and spending precious one on one moments with teen mothers and their small children at the Good Shepherd Center.
For many of the individuals, the experiences they had at the Good Shepherd Center were the most life changing. While serving them, the group even built a greenhouse to be utilized by the young families. Cooper Johnson, class of 2017, said, "The first day that our group showed up, the mothers were so excited to see us even though we had never met them before. Over the time we spent with them, we were able to make great relationships and hear their amazing testimonies of faith. It feels amazing to be able to have completely built the greenhouse, because I can now come back to America knowing that I left a physical mark in Africa."
Not only did the students get to leave physical impressions in the lives of those they met in Africa, but there were also amazing spiritual changes happening all around them. While listening to the stories of mothers and worshiping with so many people from a different culture, the Lutheran Lions experienced God's love and His work in many new ways. Anna Spykstra, who graduated from LuHi in 2015, commented, "My faith was challenged and refocused during my journey to Africa. God really brought me to my knees and reminded me of what really matters in this life. He showed all of us how BIG he is and how he has already overcome all of my doubts and fears." The students learned how to be unashamed and to be lights in everything they do; something they will surely bring to the school in August.
The impact be evident when the students comes back to school, but the adult leaders saw incredible things happening with the students during the trip. Mr. Budnack was awed, "I saw Christ working in each of them every single day to the point that I believe that most of them would have stayed longer if the opportunity was there."
Those who had the chance for this particular mission trip to Lesotho, Africa encourages everyone to jump at the opportunity to serve. High school mission work could happen right here in Parker, the Denver metro area, or any country around the world. Hallie Budnack, class of 2017, says, "A mission trip is a time to reflect with God and to see the true beauty within His creation. Serving is a great way to get involved and figure out what God really wants you to do with your life. It's also a great way to meet new people."