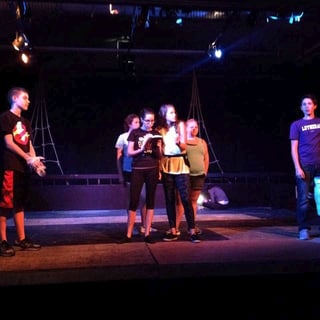 The beginning of the school year and the fall season is always a busy time at Lutheran High. Not only are students and faculty getting back into their school routine, but the first sport seasons are also starting, along with Homecoming Week and fall break. This business also includes the Lutheran High School theater department kicking into gear as they prepare to put on their first show of the year. This year's production is "Treasure Island" and many people have high hopes and expectations for the start. Everyone seems to be on the go with something.
Jillian Lietzau, the director of the fall play and the advisor for the theater department, is extremely excited about the upcoming production. She chose this specific script out of admiration, "I love the story and it's a great challenge for all of our actors. It's a fun show and the stage combat is so great." Auditions took place just a few weeks into the school year and they have been rehearsing ever since. The group is in the final days of preparations as shows begin next week. Familiar faces seen on stage, Abi Budnack and Sam Beeson, are also ready for the first show of the year. Long hours bring a cast close together and Abi reflected on their teamwork stating, "We all have different strengths and weaknesses. We use those to make each other better actors and we work really well together." The comradery of the students will be evident on stage and also continues to grow as the year progresses. Ms. Lietzau expects the program to expand this year and into the future.
The veterans of theater even have expectations of their own. Along with being passionate about the work they've put in, they know they have room to improve their talents. Sam shared, "I expect to improve on what we do this year. We have a lot of things to work on as a whole but I believe we can have as good of a group as we did my freshman year."
"Treasure Island" is a new endeavor for LuHi's theater department. This show includes intense stage combat, which has even challenged many veteran actors. But Ms. Lietzau's favorite aspect of the challenge is how it is making the cast better individual actors. There is even one scene that includes twelve people sword fighting at once. That is what sticks out in Abi's mind, "It's a high action show with a lot of fight scenes. There are some jokes here and there too!" The play is also made up of a really detailed plot line, which Sam appreciates. "It's about a boy who is missing something in his life. He ends up finding it in a fatherly figure like Long John Silver, who accompanies him on a voyage to an island riddled with treasure."
The set has been built and the cast and crew are putting in their final efforts to make the show run smoothly. Abi Budnack and Sam Beeson both want to encourage people to come watch "Treasure Island". "It's a fun show and there's food!" Abi comments, "It's an interactive show so it's fun for all ages." Sam also shared, "This is a show that hasn't been done before with this veteran cast and it's turning out to be one of LuHi's greatest stage performance since Godspell."
Tickets are on sale for $15 online and in the school office. Shows are October 23rd and October 24th at 6:30 PM.
Written by Taylor James - Class of 2016