Meet LuHi's two new Assistant Athletic Directors
Dylan Johnson and Bill Brandsma join the Athletic Department as full time assistant athletic directors. Learn more about them here.
LuHi Athletics is a quickly growing operation. This coming semester will mark the start of our inaugural year as part of the 4A Pikes Peak League. We've also added Wrestling and Softball programs in recent years, bringing the total up to 16 varsity sport options. We hired two new Assistant ADs to ensure future athletic opportunities match the school's growth.
Rachelle Robbins, Athletic Director, shares a little about the Department's focus and goal:
"We are very excited to have our team of athletic directors to help guide and push our whole department as we strive to build on the excellence of the past. At the heart of our mission is our desire to build our student-athletes into leaders not only on their playing fields but throughout our community here and into the future. With this, we believe this is best accomplished through highlighting and focusing on each student-athlete's relationship with their Lord and Savior. Our goal is to provide our coaches with the equipment and resources to share and build these relationships. We believe focusing on character and values will pave the way to excellence in competition."
So let's meet the Athletic Department's two newest members of its team: Dylan Johnson, Assistant AD, and Bill Brandsma, Director of Coaching Development. You might recognize both men as they've been coaches at LuHi for the past several years.
Dylan Johnson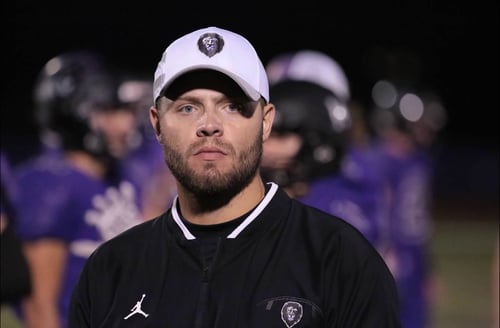 Dylan has spent the past ten years coaching and officiating high school athletics. He's worked on the LuHi Football Coaching staff for the past four years. As his role expands to Assistant Athletic Director, he's looking forward to working closely with the LuHi coaches, student-athletes, and faculty to carry out LuHi's mission.
He shares that one of his goals is to "understand the inner-workings of our athletic department, then find ways to better it. Whether it's academics, family, extracurricular activities, jobs, etc., our coaches and students lead incredibly busy lives. I hope to help make the Lutheran High School athletic experience exceptional for all involved."
Dylan shares, "I feel incredibly blessed to have the opportunity to be a part of this exceptional school and athletic department. My experience in coaching here has been a highlight of my coaching career. I cannot wait to give back to the school that has given me so much over the last four years."
In his spare time, Dylan enjoys anything that involves competition including football, golfing, and skiing. When you see Dylan around campus or at LuHi Athletic events, be sure to give him a warm welcome!
Bill Brandsma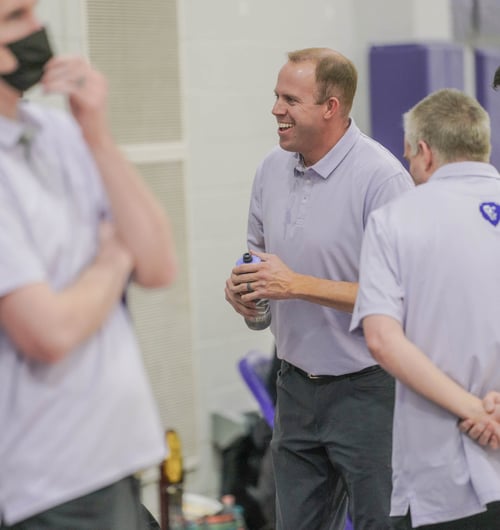 Coach Brandsma has been the LuHi Head Boys Basketball Coach for the past six seasons. He is also our Leadership teacher. Coach Brandsma has led our boy's basketball team to many successes over the years, including winning the Title in 2021. As he moves into his new Director of Coaching Development role, he is looking forward to working alongside our coaches and players to "provide support, encouragement, and passion for the success of all Lutheran Athletic Programs."
He shares, "I am so excited to join an awesome Athletic Department. One goal I have for this coming year is to develop strong relationships with all coaches here at Lutheran and to help families grow in their knowledge of the opportunities available for their student-athletes. Lutheran is so blessed to have an expanded Athletic Department, and we are all motivated to help our sports programs continue their storied success on and off the field."
Rachelle is looking forward to having Dylan and Bill's strengths add to the success of the Department.
"Both Bill and Dylan bring a wealth of experience, passion for excellence, and an unquenchable drive for success. They are both well-rounded and possess an understanding of not just athletics but how to build and strengthen relationships with coaches and athletes alike. I believe Bill and Dylan have a genuine love for Luhi, our mission as a school, and are dedicated to finding ways for our programs to overcome obstacles and succeed on all levels. As coaches, they have each navigated the ins and outs of running a program and building it. Since our ADs come from a position of knowledge and experience, all of our coaches and programs will benefit and have support from start to finish."
Both men will continue to support the mission of LuHi - nurture academic excellence and encourage growth in Christ - and the mission of the Athletic Department - to develop the Christian Character of our student-athletes. Join us in praying for them as they start their new roles and a new school year!