Lutheran High School is excited to welcome Matt Henning to the LuHi coaching family! Matt is taking over as the LuHi Girls Tennis Coach and will start his first season with us this spring season.
Matt has a long history of both playing and coaching tennis. He started his tennis career in high school and then went on to play at a small, Christian university in Idaho called MidAmerica Nazarene University. "And I've been playing in men's leagues ever since," he shares. The past couple year's he has assisted with the LuHi tennis team.
Matt shares a little about what is exciting about coaching the sport, "Tennis is a very unique and great sport, a sport that can be played well into our "older years"."
Matt explains that the fundamentals of tennis are so very aligned with our walk with Christ, as well as developing successful life skills such as:
Respect for ourselves and others
honesty and integrity
responsibility and accountability
ownership of our actions
and a healthy competitive spirit."
He has high hopes for the tennis program. One of his goals is to continue to build on the Christ-like foundation that former head coach, Mark Hollenbeck, built. "It's a foundation that teaches Christ-like principles both on and off the court. I want the program to grow and continue to become a premier high school tennis program in our area and the state."
Tennis can teach players so many great things. He shares, "My hope is that every athlete experiences these lessons throughout their time in the program." One lesson in particular is to stay in the moment.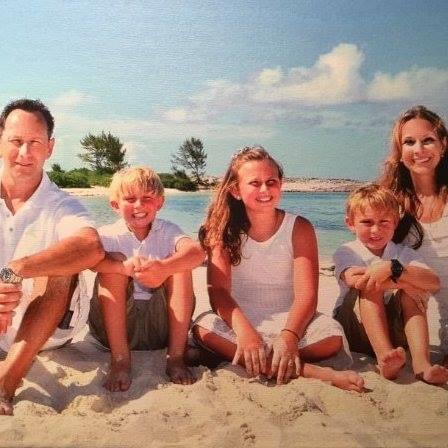 He shares, "It is very easy to focus on the past, It is very easy to be distracted by what the future holds. In tennis, things can change really fast, games and matches can turn in moments - learning how to "stay in the moment" can be the difference. In life, I believe Christ calls us to be focused on what He is doing in our Lives Now! Tomorrow will come soon enough. We cannot change the past, but we can choose to focus on today - and make the best of the situation we are in." Wise words for sure!
In his free time, Matt enjoys spending time with his family. He and his wife Melanie have 3 kids, 2 of which are already LuHi students! Some activities they enjoy doing together include skiing, golfing, and of course, playing tennis. Matt also stays busy in his role as Vice President of Medical Informatics at Healthcare AI.
Help us welcome Matt to the LuHi family by coming out this spring to cheer on the Tennis team! If you're interested in joining the team, you can reach out to Matt for more information anytime. Find his contact information here. We are excited to see how the Lord uses Matt to grow the tennis program and shine a light to LuHi students.