LuHi is excited to welcome Patrick Stiles as the newest member of the LuHi coaching family. Patrick will be starting up the LuHi Wrestling program as it's head coach.
He is well acquainted with the sport as he's been wrestling since he was 5 years old. A Colorado native, Patrick wrestled at Overland High School from the late 90s to the early 2000s. After graduation, he entered the Army and continued his wrestling career where he participated in regional and national competitions.
After his time in the Army, Patrick attended Western Colorado University in Gunnison where he wrestled for another 4 years. During that time, he began his coaching career. "I started coaching high school and middle school teams during college. Then, after graduation, I coached at Overland High School for 4 years and had 1 state champ during that time." Then, he moved to Longmont and helped coach at Skyline High School for another 4 year stretch. Afterward, he coached one year at Chaparral before signing on to start the LuHi Wrestling program.
The work ethic and responsibility the athletes learn from wrestling is one of Patrick's favorite elements to the sport. "To me, I love wrestling because you get out of it what you put in. I can't blame someone else on the team for missing a tackle or throwing a ball wrong - it all comes back to me, the athlete. The most exciting part is seeing kids see the payoff of the hard work they put in on the mat. It's taught me that if I dedicate myself to something, I can go far."
Patrick expands on other lesson's he's learned from both the athlete and the coaching side. "As an athlete, the biggest lesson I pulled away from wrestling is by doing a little extra - putting in the extra effort - you can excel your life to the next level. It's a different mentality when you are doing more than just the minimum requirements."
"As a coach, I've learned this is a sport that can really build lifelong bonds. A lot of my former athletes still keep in touch with me. When you sweat and bleed and work hard together, it builds a bond like no other," he shares.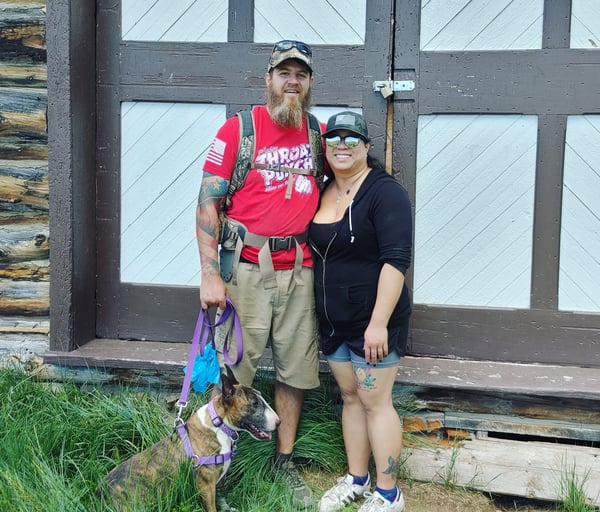 His goal for the LuHi Wrestling program is to build a community where student athletes can share experiences and learn life lessons. "For me, I want to build a program where the culture is the most important thing. It's not just about the sport, but also the life lessons you can learn from the sport. I want kids to learn and grow with their friends. I want to see kids get excited about coming out for wrestling because of the bonds that form and not just want to be the best wrestler in the state."
When Patrick isn't coaching, you can find him working hard with one of his companies. He owns a roofing company, a machine shop, and he makes kettle corn! Spending time outdoors is one of his favorite pastimes. He enjoys hiking, fishing, and camping. He also likes working on cars, picking up new hobbies and learning new skills. "I like working with my hands. I am a welder, I know HVAC - and it's all self taught. I like to find a problem and then build the skills to fix it."
We are so blessed to have Patrick join our LuHi family. We can't wait to see how he builds the Wrestling program!