We are excited to introduce you to our new lacrosse coach. Let's meet him!
Brian Vickery
Brian, our new lacrosse coach, has been playing lacrosse for almost 20 years now and coaching for nearly 15 years. His coaching experience ranges from youth and high school teams to coaching at the collegiate level.
"I love how difficult the sport is," Brian shares, "I also love how the game is continuing to grow as the fastest game on two feet! I love how physical it can be and how disciplined the players must be to play at a high level. I think my passion comes from how long I have played the sport and the level of the sport I was able to play. Watching the players having fun and succeeding while they learn is also something I am passionate about."
Goals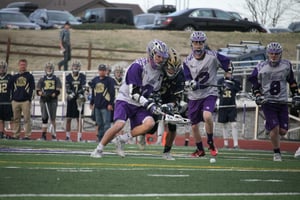 Like Melissa, Brian is bringing big plans to LuHi's lacrosse program. "I am coming to Lutheran with a 3-year plan. This first year, I am looking forward to the team growing and learning our new systems. I also am hoping to get the team back to .500 at a minimum. In year two, I am hoping for the team to be competitive. Meaning, that we pull a win out against either Air Academy or Cheyenne Mountain (the two top teams in our conference). Year three, I am hoping that the team will be ready to make a deep run in the playoffs. Of course, if any of these things happen earlier, that would be OK by us too!"
He also has goals for his players, too. "I hope that each player walks away with a great respect for this game. It comes with a deep history."
Life Lessons
"Playing, I learned that you win some and you lose some," Brian explains. "Sometimes when you lose, it can hurt really bad, but you have to remain a good sport. Coaching, I have learned that patience really is a virtue and consistency plays a major role in running a program."
Through shared experiences, hard work, and struggles, Brian has seen lifelong friendships and bonds be born through lacrosse. "I want my players to get an amazing experience while they're on the team because this game tends to create a brotherhood that is undeniable."
During his down time, Brian is usually spending time with his wife of 8 years and two wonderful kids. "We spend a lot of our time following the kids around at sporting events or going on our own adventures."
We are so excited to have Melissa and Brian bring their expertise to lead our Lions this season! You can find them with their teams working hard next week on the court and field. The Spring Sports Season starts on Monday. We are looking forward to exciting things from our baseball, lacrosse, golf, tennis, soccer, and track teams again this year!