Certainly Lutheran High School is all about helping students realize how God has gifted them to serve and how He has purposed them for impact in the world. In fact, a number of students at LuHi have already begun to embrace the opportunities to reach out into the community to make a difference — NOW!
LuHi's chapter of the National Honor Society has always been about reaching out into the community and serving God by serving others. This year, however, with the NHS membership doubling, the outreach has been able to extend further.
How NHS Serves NOW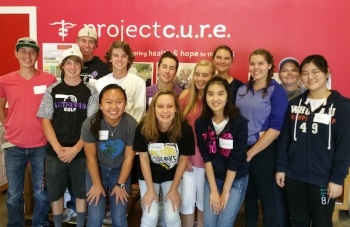 Already groups have been collecting food donations for Parker Task Force as well as sorting and packing medical supplies at the Project Cure warehouse. NHS students have also been taking care of tasks at school. Besides serving lunch on Wednesday and providing the helping hands for different school events like Open Houses or visitation days, LuHi NHS members are also responsible for the everyday task of raising our country's flag which has taken on a greater meaning after government teacher and former Army soldier, Mr. Park Vogel, gave an insightful presentation outlining the importance of accurate procedures and the symbolism associated with each practice.
NHS members will be involved in numerous other activities as they strive to create a reputation for being the "go to" team who desires to make a difference, not just after they graduate, but NOW, during their time at LuHi.
Chick-fil-a Leader Academy
This year, through the generosity of local Chick-fil-a owner/operator Don Griffin, eighteen LuHi juniors and seniors have been enrolled in a nationwide program aimed to impact the community through action.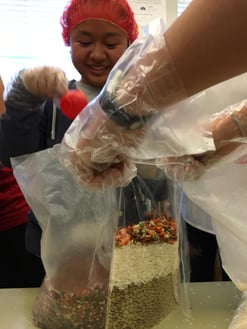 On September 24th, these students went through the two-hour kick-off event for the Chick-fil-a Leader Academy, and the overwhelming response was one of excitement and anticipation. After Mr. Griffin served breakfast, the students worked through videos and activities and service projects all designed to inspire, to challenge, and to equip.
The major service project of this event was the assembling of seventy-five meal bags (900 healthy meal servings) for the Food Bank of the Rockies to distribute. Donning the red hair nets and plastic gloves, the students were able to accomplish this task in twenty minutes, and they enjoyed every second. Everyone agreed that the two hours passed very quickly because the videos were meaningful and the activities were fun.
LuHi CLA members will be meeting once every month until April to receive instruction and inspiration through the video lessons, and they will also plan two small community service events. In April, the students will partner with Mr. Griffin on a major event to benefit the Parker community; this project will serve as a "graduation" from the program. Lutheran High School is just one of over 600 high schools partnering with their local Chick-fil-a owners to make an impact across the country with young people leading the way.
We are blessed to partner with such a big - and tasty - ministry.