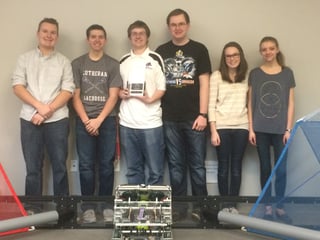 Noah Rolf was a freshman when he joined the Lutheran High School Robotics Club. He knew he was interested in computers and figuring out how they worked, so when a senior invited him to one of their meetings, Noah knew it was a good fit.
Last month, Noah graduated from LuHi and although he is excited for college, he knows he'll miss the robotics team, competition, and community. "I've enjoyed every minute I've spent there over the past 4 years and I wouldn't take any of it back. But, there is an end to everything and this is mine," he told me.
He goes on to offer encouragement to other students considering joining, "Anyone can join! There's a beauty in robotics that you don't have to be smart, you have to be creative. The math can be figured out but it's more important to be able to come up with a good idea. And anyone can come up with ideas. That's what robotics is: idea after idea after idea, and then you follow the engineering process of 'how do we make it better?'."
Since I had no real grasp on what a robotics competition looked like, Noah broke it down for me. "It's an all day affair," he explained.
Their day starts early because Parker doesn't have any schools or centers that host Vex robotics tournaments so the team has to travel (sometimes up to 2 hours) to arrive at the competition. Once they arrive and set up their pit station, they take their robot to be inspected. Vex robots must be 18x18 cubic inches. Besides the physical inspection - which includes measurements and motor checks - the robot also must undergo an electrical coding test. The robot is plugged into the competition switch (which is basically the standard code that runs in the background of all the Vex robots) where the 15 second, pre-recorded, autonomous period is tested followed by the the testing of the controller, wiring, and coding. Noah says this usually takes about 15 minutes and if your robot passes inspection, you are cleared to begin the qualification matches.
While they wait for the qualification matches to start, they scout out the other teams. It's important for them to learn about the strengths, weaknesses, and uniqueness of the other teams' robots.
"It's like watching film," Noah tells me, "except that you have to do it while you're at the competition instead of ahead of time." Robots can change from one tournament to the next, so it's important not to assume you know another team's robot.
Then, teams are assigned alliances - usually 2-3 other robots. The two minute matches are broken down into a 15 second autonomous period followed by one minute and 45 seconds of game play with the robot controlled by controller. Scores are based on the alliance's record, a team's individual skill points, and points against them.
After the 5 qualification matches are played, teams break for more scouting. Scouting and diplomacy is crucial to a team's success because alliances are picked rather than assigned for the Elimination matches. Based on a team's rank, they will use this scouting time to either sell themselves to a team or decide who they want to draft.
Teams must win 2 out of 3 to move on in Elimination matches. The 2 minute game changes year to year, but the object of this season's game was to get as many balls as possible into nets of various heights. LuHi's robotics team won a regular season match earning them an invite to the state tournament.
"It's really tough to win a tournament. You have to have a perfect balance of playing well, scouting, drafting, and understanding of your alliance and competition," Noah says. "Without diplomacy, you won't get very far. The capability of your own robot will only get you so far."
The robotics team started working on this year's robot last April. After the World Championship, next year's game is announced and teams don't waste anytime planning and brainstorming. They have until October to perfect their robot, so most of the summer is spent getting their plan on paper. This year's robot featured an elevator, intake rollers with a filter, and flywheels to shoot the game balls into nets. The most notable feature on the robot is it's breaks.
"It's not the breaks like you would think in the traditional sense," Noah explained. "We added pistons and non stick foam so our robot wouldn't get pushed around during matches. The matches can get pretty physical and we wanted our robot to be able to stand it's ground."
Noah is proud of the growing robotics team at LuHi and proud of their accomplishments this year. Most of all, he values the community, camaraderie, and experiences he gained from being on the team for 4 years. Although he is graduating, he will keep cheering on his teammates from afar.
The robotics team meets Mondays and Thursdays from 5-8pm in Mr. Blomenberg's science room.