We have been blessed to plan, develop, fund, and see-through such a large construction project to provide the best environment for our students and LuHi families. Beginning with Phase 1 (the football field) and continuing with Phase 2A (new weight room and remodel of Forge classrooms) and Phase 2B (75 parking spots, additional upper floor bathrooms, upgraded lighting, renovated performing arts room, opening of the main corridor). The final plan for Phase 2 is the western expansion that will include a new cafeteria, a new college guidance center, and new classrooms.
New Cafeteria
We are looking forward to a cafeteria that is twice the size of our current space. We will be adding an option for a kitchen to serve hot meals, though the decision has not been made to utilize such a space just yet. Our current system of bringing in outside vendors for meals has been working well. However, the newly remodeled cafeteria will also serve as a concessions area and provide indoor restrooms for stadium events hosted at LuHi.
New College Guidance Center
To provide more and upgraded space for our guidance counselors and the students they see, we will be adding four offices and a common area. Our counseling program is of utmost importance to our students' current and future success, and we want to make sure that they have a comfortable and inviting space in which to plan for that success.
New Classrooms
In addition to these plans, we will be adding several new classrooms in the western expansion. In keeping with our vision of classrooms that encourage collaboration and creativity, foster excellent teaching, and become a space that students enjoy, these classrooms will get the same technology upgrades that occurred over the summer in other learning spaces. More bathrooms will be included in this expansion, as well as additional staircases to improve student traffic. Access students will also get a brand new space in this new wing.
Perhaps the most visually striking portion of this expansion will be the floor-to-ceiling wall of windows facing west, providing an incredible view of the front range. Students will be reminded of God's glory in creating such a beautiful landscape. We hope that the scenery will invite students to gather here and that be inspired to strengthen their connection to Him in moments of quiet reflection or while engaging with friends and staff.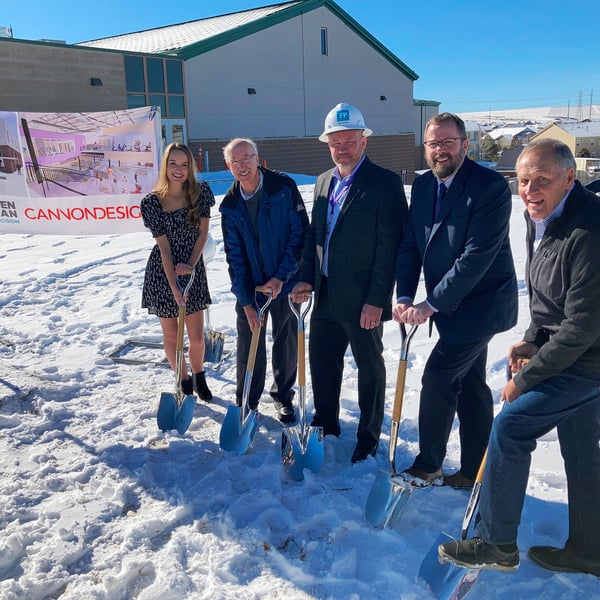 Funding the Western Expansion
Our goal is always to remain the most affordable Christian high school in the area. We are grateful for generous donors who help fund expansion, upgrades, and tuition assistance. Lutheran High is committed to keeping classes small by adding classroom space and more teachers while continuing to grow as the metro area around us grows. Our growth has been steady for the past five years - we've seen a 10% increase in enrollment each year. By renovating and upgrading, and doing so quickly, we can improve services for current students and plan for future student experiences.
Construction has officially started so stay up to date with the progress here.