Fall Sports
Our Fall Sports teams would love to have your support at a home game or match. Although some sports that traditionally happen in the fall are missing from the docket, we are still excited to cheer on the teams that do get to participate! Check out our school calendar to see when our Softball, Cross Country, and Boys Golf teams are competing: https://www.lhsparker.org/calendar
If your student is interested in participating in a Fall Sport, be sure to reach out to the head coach. Coaches contact information can be found here: https://www.lhsparker.org/fall-sports
New Student Orientation & School Pictures: August 12th
This is a mandatory event for all new students. Orientation is a time for new students to get familiar with the school. During Orientation, new students become familiar with the school. They find their classrooms, learn how to open their lockers, and meet teachers.
This is a student only event. Parents, we love you, but we want our new students to branch out on their own for the first time! We'll take good care of them! Be on the lookout for more details about this event via email from our Principal, Mr Ness.

Freshman Retreat: August 20-21st
How do we help the freshmen get to know each other? Our Freshman Retreat! With over 200 students coming from 50 different feeder schools, it's important to help students feel at home with each other and LuHi. The Retreat always includes team building activities, Bible studies, and ice breakers. It's amazing to watch new friendships form.
This year, the Retreat will look a little different than our usual trip to Camp Timberline. The freshman class will be split in half with one group meeting for bible studies and activities the first day and the second group meeting the next.
The Retreat is also a great avenue for students to get to know the freshman teachers and upperclassmen. The bible studies and activities are led by LuHi student leadership. After the Retreat, freshmen will know the names of the friendly faces they see in the hallways. It's a great way to build a support system around new students.
Back to School Night: August 25th
It's the parents' turn to get in the classroom! Back to School Night helps parents familiarize themselves with their students' teachers. Parents follow their student's schedule from classroom to classroom to meet teachers. Teachers talk about what will be covered during the semester and leave time for parent questions. Teachers also share contact information, explain how they use Canvas, and talk through ways that they'll support the students throughout the year.
See you at the Pole: September 23rd
We laugh together, learn together, and most importantly we pray together! SYATP is a nationwide tradition of students gathering together for a time of prayer. It's part of a larger Global Week of Student Prayer. Learn more about SYATP here: https://syatp.com/
SYATP is led by our Theology Department and student worship team. Besides prayer, we also spend time singing and worshiping together. There's nothing better than having our community out in the front of our building and giving the school year over to God.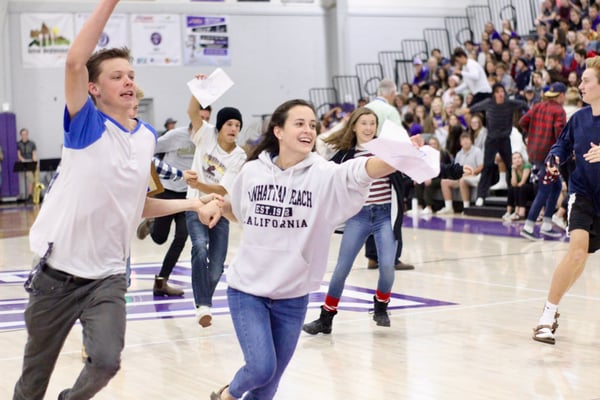 Homecoming: October 5th-9th
The biggest event of the fall semester is Homecoming. It's full of beloved traditions like student vs teacher volleyball, a lip sync, and pep rallies. Brought to you by the Student Council, this week is packed with different events including spirit dress up days and hallway decorating! Each class has the chance to show off their talents in hopes to be Homecoming winners. Our Student Council will announce the theme, schedule of events, and all the information you could want at a later date.
Fall Show: October 25-26th
Theatre's first performance is always highly anticipated. More information about the show as well as tickets will be on sale soon. Mark your calendar for October 25 and 26th because you won't want to miss a performance from our incredibly talented students! We are excited to perform Vintage Hitchcock: A Live Radio Play in our new performing arts space. We are very excited to have this opportunity to show you the acting ability of our students.
We hope to see you at one or all of these events this semester! Your support of LuHi students is invaluable.