Staff Spotlight: Ben Fueger, Admissions Director
Meet Ben Fueger, our new Admissions Director. Ben has roots in Texas and California but is excited to call Colorado and LuHi his new home.
Today we'll get to know Ben Fueger, our new Admissions Director! He is a recent and welcome addition to our community, having just started at LuHi mid-February this year. As LuHi continues to grow our ministry, we are excited to bring him on board so more students can hear about our amazing school.
Ben was raised in Southern California, attending Zion Lutheran grade school, Orange Lutheran High School, and then Concordia University, Irvine for his undergraduate degree. He grew up loving sports and still remains loyal to his SoCal teams. "Baseball is my true passion and love and the Angels are my team," he says, "although I don't have a specific football team I am an avid fan and watch all the games. Who knows, maybe I'll become a Broncos fan now that Russell Wilson is on the team." LuHi Broncos fans, looks like you have some recruiting to do!
And speaking of recruiting, this is Ben's main role as Admissions Director. He oversees the admissions staff and team as they recruit new students into LuHi. They stay busy accepting and enrolling students, making and achieving enrollment goals, and planning and hosting events to showcase the school's offerings to prospective families.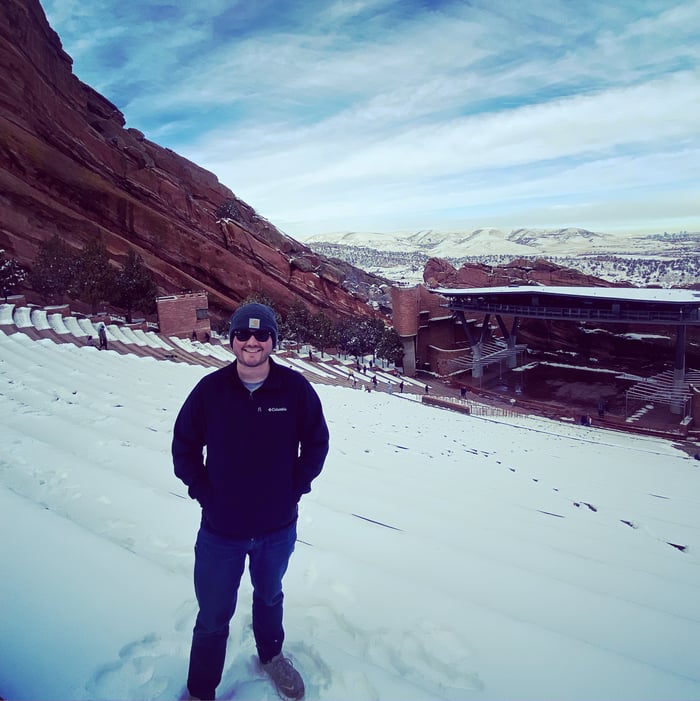 His job is made easier by LuHi's excellent reputation. After graduating from Concordia Irvine, Ben worked in their college admissions department for four and a half years and then at Concordia Austin in Texas for two years. "While working in admissions at the college level for both Concordia Irvine and Texas, I was blessed with the opportunity to visit and recruit the students of Lutheran High. While meeting with the students and faculty it became apparent that everyone was extremely welcoming and nice. It was from that point on I knew that someday I would love to work there and be a part of that community. Seven years later, including multiple school recruitment trips with the Concordias, I've finally made it to LuHi permanently."
Ben loves working in admissions partly because no two days are the same. Depending on the time of year, he gives families school tours, accepts new students, enrolls new students, and hosts events. He says, "Really every day is something new and different which allows me to stay up to date and on my toes with everything."
In addition to his admissions work, Ben is currently pursuing his Masters in Education from Concordia Austin and expects to finish this December. He's thankful that in the midst of a busy schedule with work and school, he can attend chapel every Monday, Wednesday, and Friday with the LuHi community. He looks forward to worshiping and connecting to God during the day.
As Admissions Director, Ben knows how important it is to look to the future, whether that involves planning for high school or college. But he wants to remind students that it is just as important to savor the present. "Enjoy the time you have in high school. High School goes by so quickly, so don't let the little things worry you or get to you. Enjoy the moment, because before you know it you'll be walking across that stage at graduation wondering where the time went."
In the meantime, Ben would like students and families to know that he needs your help. Recruiting is a big job, so it's not for just one person or even a team to tackle. When you share your personal testimonies, stories and experiences about LuHi with friends and neighbors, it goes a long way towards building our ministry. "It takes a community to recruit and enroll a student," says Ben. "The more people that can advocate and speak highly of Lutheran High, the more families hear about the school."
If you haven't had the chance to say hi to Ben yet, he's in the office all summer and would love to meet you! Ben, you are shining a light on all the powerful things God is doing at LuHi and we're excited to see how God will bless new students through you!