by Paul Blomenberg, Head of the Science Department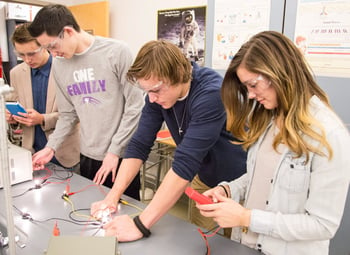 The STEM Academy at Lutheran High is well on its way through completing the flagship year of the program. Students involved have begun to better understand their interests and passions as well as dive more deeply into their unique fields of interest. Students' interests stem from topics that fall under the umbrellas of engineering, computer programming, medical research, and more.
LuHi STEM Academy students have already proposed their projects, found mentors, and are currently in the early stages of preparing to work with their mentors to complete their collaborative community experiences.
To give you an idea as to what these collaborative community experiences look like, I have chosen 3 student projects that cover a wide breadth of topics as well as dive into discovery and learning in a unique way. All projects are student designed and driven.
Software Development for Small Business - The first example is a student is working on developing software to help small businesses track sales more specifically. Applying solution architecture, he will use his uncle's bait shop in Maine as a test platform for his software. Solution architecture is finding solutions to specific problems. His uncle needs a platform for different softwares (excel, PayPal, Quickbooks, etc) to be able to "communicate" with each other. The student's goal is to create software that will help his uncle be able to better track inventory and sales, then automatically create reports for the bait shop all under one roof. He is envisioning creating an excel sheet that can better track inventories, profit lines specific to inventory, and finally track sales to clients. In the end, he will have developed a program that will convert transactions into individual profiles of clients through credit card transactions.
EDM Music Production - The next example is a student who would love to professionally write, produce, and perform (DJ), his own EDM music in various venues. He is going to work with local producers to learn both the business and social aspects that are involved in producing music. He plans on being in the studio and hopes to collaborate on a project with his mentor. From the experience, he wants to gain insight into best practices that he can apply to his own EDM music. His goal is to master some of his previous recordings and release them via SoundCloud.
Sports Induced Concussions - Lastly, a third student is studying and working with sports induced concussions. Her plan is to interview both professionals involved in collegiate research as well as experts in the industries working to prevent sports induced concussions. She will also create a better solution for preventing concussions besides simply using current helmet designs and educating those participating in sports. She will work on applying her engineering skills to develop and design a better apparatus or system that can be used to prevent or greatly lessen the risk of sports induced concussions. Once completing the blueprint and prototype of said designs, she plans on pitching her design to a company.
Collaborative community experiences take place over the summer between a student's junior and senior year. After completing their collaborative community experiences, STEM students will work on putting together portfolios that use scientific research methods and effectively communicate what they gained from their experience.